Trade Show Truss Displays in Portable, Modular Layouts
---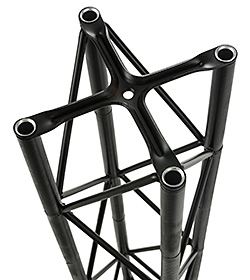 Trade Show Truss Displays Offer a Complete Exhibit Solution
On the search for something new to feature at the next convention? Trade show truss displays break tradition with an entirely fresh aesthetic. Gone are the pipe & drape curtains with banner stands — enter the new modern and industrial age! Our trade show truss displays can either envelope the entire booth space or simply augment it with a custom printed backdrop. The secret is in the modular design. With their ability to be assembled without the need for tools, these exhibit booths offer that contemporary industrial look you've been searching for! We offer trade show truss displays with lots of choices for the exhibitor. Choose from large or small footprints, customized artwork, and storage options for transporting. The truss display system is rugged enough to hold up to years of use. Read on to learn more about what these innovative exhibits can do for you and your business!
Why should I buy this modular booth system?
Our trade show truss display is characterized by its triangular shape and unparalleled strength. The technique is primarily used in roof and bridge building. The same style design is also used to great effect in some of our best-selling podiums and lecterns.
Each modular truss unit is manufactured from aluminum and features a black plastic protective coating.
The individual modules are lightweight but strong. This is critical since the system needs to be assembled, disassembled, and transported easily.
Assembly is simple and intuitive — like building a toy. The interlocking sections fit together and screw in place with large knobs. No other tools are required.
There are many different configurations to choose from that will fit into standard 10' x 10' and 20' x 20' exhibit spaces. We offer simple backdrops ranging from one to three panels. To attract the attention of trade show attendees from a distance, opt for a square tower that rises 17 feet in the air! Also available are builds that allow people to walk into and around them freely. This provides a unique opportunity to create a memorable three-dimensional "environment" for your visitors.
Our truss systems are sold in pre-designed packages, but there's no saying you can't come up with your own design and layout!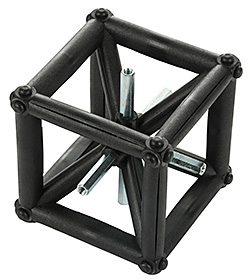 Choose to provide your own graphics or let us print them for you. Your custom artwork is printed onto fabric using the dye-sublimation method. Pole pockets are added to the top and bottom of each graphic, which is then hung inside the truss opening. Small clips attach to each side of the artwork to hold it in place.
In the event you already have one of these exhibit displays and need to update or change the artwork, you can buy replacement fabric graphics.
Transporting your truss system is another factor. We offer each configuration with the option of purchasing hard shell cases. We highly recommend buying these because they are specifically designed to store the different-sized modules, cubes, and connectors.
Part of the fun of using this exhibit display system is putting it together. The truss sections, called modules, attach together with an "X" connector and bolts with easy-to-use knobs. The cubes are used anytime a corner piece is required. The cubes are 6-sided and universal, which takes any guesswork out of the equation. We include the aluminum bars that support the graphics (they slide into the pole pockets) as well as all the clips required to secure your artwork to the frame. Total assembly time varies with the size of the system, but we are confident you will be pleased with how quick and simple the process is. Now that you've purchased a truss-style exhibit booth, you'll need to add some stylish furnishings. Keep modern business furniture in mind for your next trade show!