Folding Event Tables in Round, Rectangular, and Square Styles
---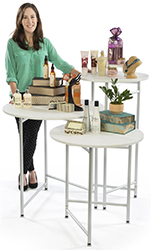 Folding Tables for Events — MDF and Plastic Tabletops with Steel Legs
Looking for portable banquet furniture that can be used for special occasions or retail store activities? Check out our folding event tables in round, rectangular, and square styles with steel legs that lock shut during transit. This banquet furniture folds into a compact unit when not in use, saving space in your shop, home, or office. It's also easy to toss folding event tables, also known as banquet furniture, in the back of the car. These collapsible plastic tabletops come in an array of sizes and configurations for use indoors and out of doors. Stock up on folding event tables so you always have extras on hand and enjoy wholesale pricing!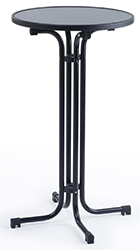 What features should be considered when selecting portable banquet furniture?
Shape: Choose folding event tables that are the right shape and size for the venue you'll be using them in. We have round, rectangular, and square designs in small sizes for tiny trade show booths and big ones for cavernous convention halls.
Height: Buy 30" tall standard tabletops or choose a bar-style highboy. Need a long, narrow buffet for a wedding? We offer height adjustable versions so you don't have to keep investing in new fixtures every time there's a new sized space. Retailers use our low, round tables to display and sell merchandise in their stores or at trade shows.
Color: All of these fixtures come in standard colors including white, speckled gray, and black. Bases are made of silver aluminum or steel, though in some cases they are finished in the same color as the countertop.
Construction: This plastic furniture is fabricated in molded plastic, MDF, PVC, and HDP (high density polyethylene) depending on the model. This rust resistant, moisture repellant construction makes them great for long-term outdoor use. Commercial grade steel tube aluminum legs keep everything steady during use, and fold conveniently into the top for transport and storage.
Configuration: Some of our collapsible fixtures come in two flat steel pieces that take up only a small storage footprint, while center-fold tabletops collapse into a slim, suit-case for transport. We also have tiered display tables with a nesting feature that allows each table to be stored within the other when not in use. Sold in sets of two and three, these units are great for salon and boutique use. Our other folding styles are rectangular and square with steel legs folding underneath and locking in place so there are no accidents during transit.
Size: Rectangular furniture is offered in many different sizes including 104", 96", 72" and 48"tall. Our square tabletop is 36" tall. Our round tables come with 24", 28", and 32" diameter countertops. Once you've made your selection, you'll want to dress up your tabletops with polyester tradeshow tablecloths in compatible sizes.
Whether you're staging a wedding at a church, hosting a graduation party or family reunion in your back yard, or attending a conference or trade show, these plastic tabletops are well designed and reliable choices. These are great to have on hand for company-wide meetings and "need it asap" work projects. This furniture is used by retailers for product demonstrations, college students to conduct phone-a-thons, and outdoor festival staff to sell tickets. Shopping in bulk helps lower the cost.
Tall bar bistros tabletops give guests a place to mingle and have more intimate conversations than larger sized plastic folding tables. These are used for small cocktail parties, reunions, and other celebrations or to expand dining in bars and restaurants for big parties. Highboy-style furniture is popular at trade shows for creating a fun setting for guests to interact with booth representatives while standing up for demos and information sessions.
Our popular rectangular tabletops make great work stations in the office, promotional displays at conferences, calling areas at telethons, and dining furnishings in school or hospital cafeterias. The longest, narrowest versions of these can be used as buffet areas at catered events. Festival organizers often use the tabletops to seat the volunteers who are selling tickets and sunscreen. Our selection of lightweight plastic dining furniture can be carried effortlessly across a beach or lawn using the built-in ergonomic handle.