Adjustable iPad Stands with Height Setting, Rotation, and Tilt Options
---
Height Adjustable Tablet Floor Stands Offer Versatility to Retailers, Trade Show Exhibitors, and More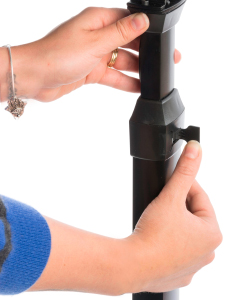 Are you looking to use your iPad as an information or ordering kiosk? Our adjustable iPad stands ensure that all your customers will be able to engage with your interactive content. Most models use a simple mechanism for height settings, allowing any user to move it to their preferred level. These adjustable iPad stands with rotating brackets can be easily altered for portrait and landscape view modes, expanding the breadth of content that you can display, from interactive apps to full-screen video advertisements. Tilting tablet mounts also allow users to adjust the viewing angle for the optimum experience. Each of our adjustable iPad stands with locking enclosures keep your device secured, so you don't have to worry about it walking out the door while you're busy with customers.
What other options are available on these floor standing tablet holders?
For even greater flexibility, some of our adjustable iPad stands offer full 360° swivel, making them a great option for checkout. Employees can put together an order, then flip it around for the customer to enter their payment.
To add an extra advertising punch, consider a floor standing tablet mount with custom printed banners. These personalized graphics can call out a special offer or a new product and invite guests to use the iPad right above it for more information or special ordering.
The most versatile option available is a floor-to-countertop convertible unit. These allow the head and enclosure to be removed from the main body and placed directly into the base, creating a short tablet station that's perfect for use on a checkout desk or table.
Of course, functionality is just one piece of the puzzle. When buying an iPad stand, the first thing to consider is compatibility. Will this fit my device? Does it accommodate different tablets in case I get something different down the road? Our enclosures come in a variety of dimensions to fit a broad range of devices, including many iterations of Apple tablets, as well as Samsung Galaxy and Microsoft Surface. Specific compatibility can be found in the specs on each product page. Another important factor is the build quality. All the bells and whistles in the world are useless if they're applied to subpar materials. Our iPad stands are built for high-traffic situations, employing sturdy bases and high-quality steel and aluminum construction to withstand constant usage. If you're looking for more placement options, consider tablet mounts for counters and tabletops with locking and non-locking enclosures. These fixtures are great for cashiers to use as POS systems in dining establishments as well as for customers to engage with you through satisfaction surveys and lead generation.