iPad Mini Enclosures with Locking and Rotating Functionality
---
Countertop Holders for iPad Mini Are Easy-to-Use POS Systems
Are you looking for a secure way to integrate your tablet into your checkout process? Our iPad Mini enclosures offer a semi-permanent solution, capable of either standing on their own or being bolted into a checkout counter for reliable everyday use. The option of affixing them to a surface allows these holders to be used independently by guests away from the cash wrap. Whether you plan to utilize your tablet as a touch screen register for store associates or as a shopping kiosk for customers to browse while they wait, these secure iPad Mini enclosures with locking cases assure that your technology doesn't walk out the door. Allow guests in your store to explore your full catalog, browse special order items, preview customized products, or just learn more about your business and services while they look around. During those extra busy periods, tablet info kiosks help you provide an excellent customer experience even when you're short-staffed. Beyond the retail and food service industries, these device holders are essential tools for trade shows and industry expos. Take one along with you to your next event to capture leads, grow your email list, or allow potential clients to learn more about you while you network with others. Medical specialists and physical therapists often use tablets to collect patient surveys or to track their treatment progress, so setting up a permanent fixture in their waiting room can ensure that regular feedback becomes part of every visit. Rotating iPad Mini enclosures for POS use are incredibly simple to use, not in the least because touch screens are so ubiquitous that they require very little training to operate. Employees can ring up a purchase, then spin the entire housing around for the customer to enter their payment, add a tip, sign, and choose how they want to receive their receipt.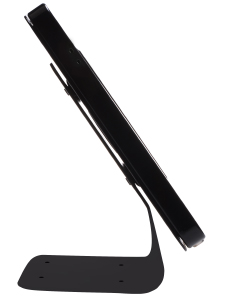 What are the benefits of using an iPad Mini enclosure instead of a traditional register or info kiosk?
Dedicated point-of-sale systems are often clunky, hard to match to your decor, and use proprietary software that offers little in terms of flexibility. In contrast, iPad holders tend to be slimmer and have a minimalist look that blends in the environment more easily. Tablet-based POS systems give you the freedom to choose the applications that suit your requirements and to add on additional software and devices as the need arises. A huge advantage of using iPad enclosures over traditional cash registers is their portability. Simply remove your device from the mount and take the checkout system with you when meeting customers on the sales floor.
In-store kiosks have many of the same problems as cash register systems with the additional hurdle that they also tend to be prohibitively expensive for small businesses. Countertop iPad stands require less upfront investment and have the flexibility to multitask, allowing you to set up an info station when it's less busy and add an extra register to your checkout counter when lines are getting long. Because of their inherent portability, these countertop iPad enclosures can also come with you on the road, whether that's during a pop-up appearance, a networking event, or a trade show.
Utilizing the device you already have as another avenue to enhance the customer experience is a cost-effective move that could result in extra sales. Many business owners already use an iPad to manage many aspects of their store or restaurant, from inventory tracking to accounting to social media. Tablet holders are often built to specifically house a single model or line of products, so it's important to find one that fits the device you already have. If you have an iPad Pro or Air or if you prefer the Microsoft Surface Pro, shop our selection of floor, counter, and wall-mounted enclosures for tablets that function as POS systems and interactive kiosks. More than ever, businesses are integrating these touch screen devices into their daily operation. Give your iPad a home on the sales for or checkout desk with these countertop enclosures.