iPad Mini Wall Mounts for POS and Information Stations at Retail and Trade Shows
---
Wall Mounting iPad Mini Enclosures Create Simple Point of Purchase Stands & Information Kiosks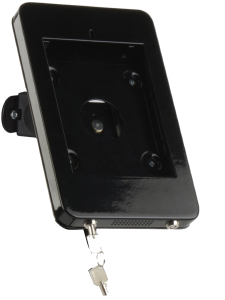 Trying to modernize and streamline your business by incorporating tablets? Our iPad Mini wall mounts allow you to turn your device into a kiosk, checkout station, or informational booth. Use these enclosures in common areas like waiting rooms and lobbies to display ads and educate guests about your products and services while they wait. Secure iPad Mini wall mounts can also be used with your company's tablet to collect leads or contact information from customers to bring them into your marketing funnel. These brackets help reduce wait times in your store, as well. By placing an iPad Mini wall mount with a card reader on your sales floor, employees will have the option to check out guests without having to take them to the counter or wait in line. Diners and fast food places can greatly benefit from shorter and more efficient lines as well, in turn making room for more customers to enter.
Where are iPad Mini wall mounts often used?
Retail stores — Informational stands are helpful to people looking to make a purchase and a great way to engage new buyers
Restaurants — Checkout stations with iPad Minis make it easier for employees to manage bills and receipts
Trade shows — Having an interactive stand will allow potential clients to enter information into your system, allowing you to collect names and numbers instantly
Museums and Exhibits
— Educational events often use supplemental devices in the form of info kiosks. A mounted iPad is a versatile, reusable solution that can enrich visitors' experiences with video, audio, or text
Engaging visitors with tablets will keep them interested, making wait times feel shorter and keeping them in your space longer, increasing the opportunity for a sale. Other creative ideas include selling ad space for complementary products and services on a slideshow or allowing guests to special order items you may not have in stock. Doctors and dentists have also been implementing the use of displays in their offices to occupy guests as they wait. These informational kiosks are great for educating patients about various health issues and can work equally well in informing them about your business. Looking for an enclosure to fit a different model? Shop our selection of wall mounting tablet holders for iPads and tablets up to 11 inches to create a POS system or interactive display using the device you already own.