Floor Stands Compatible with Apple® iPad Air Generations
---
iPad Air Floor Kiosks Are Ideal for Retail & Trade Shows
Love your iPad Air tablet? If you're considering using it inside a freestanding kiosk, you want to be sure it's compatible. Our iPad Air floor stands are designed to fit this specific tablet (which also comes in numerous generations). The major features that separate this particular touchscreen from other Apple® products are its thinner build and lighter weight. These iPad Air floor stands easily accommodate those identifying specifications. Shop our extensive selection of freestanding tablet holders that offer compatibility and a whole lot more.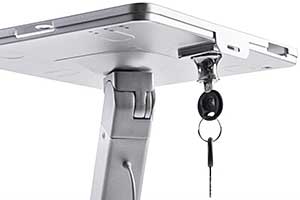 What are the main selling points of these touchscreen kiosks?
Locking Enclosures - iPad Air floor stands that secure your investment under lock and key do more than prevent theft. Your tablet stays protected while used at high-traffic, public events like trade shows. Steel enclosures feature internal padding that cushion and stabilize your device. Heavy bases help keep the kiosks steady when users are interacting with the screen.
Adjustable Heights - Many of our iPad Air floor stands offer this adaptable feature. It can be an important consideration if your display will be accessed by anyone, short and tall. In lieu of adjusting the height, select models also provide tilt and rotating enclosures for additional user accommodation.
Custom Graphics - So you want to apply a touchscreen kiosk at your next event or place of business. Incorporating custom-printed signage with the floor stand helps market your company while targeting visitors or customers with strategic advertising content. Whether this is to call attention to your business or to educate the viewer, personalized graphics make a great first impression well before someone walks up to your tablet.
Tablet kiosks are also useful for gatherings and receptions, visitor sign-ins, as well as order-taking. With all the many touchscreen brands out there, you want to be sure the display it's going into is a perfect fit. Once combined with one of our floor stands, your iPad Air will transform into a digital walk-up station suitable for any application. Have a different Apple® device that needs securing? Stands for the iPad Mini accommodate this smaller format device with much of the same great features listed here!