iPad Air Wall Mounts are Hanging POS Fixtures and Product Information Hubs
---
iPad Air Wall Mounts Can Be Used as Checkout or Informational Stations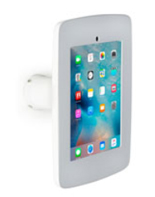 Many businesses incorporate tablet mounts into their daily toolkit to assist with point of sale (POS) systems and interactive product catalogs. Our iPad Air wall mounts are a great way to conserve floor space while providing your guests with a versatile digital fixture to browse product selections, service details, and company news. These displays can be used as checkout counters or informational "booths" where customers can research products and services offered. An iPad Air wall mount is a great way to engage customers than to show an awesome video of what a product or service can do, help them explore product specs and features, or even provide wayfinding solutions around your store. Face-to-face interaction is great for engaging and retaining customers, but allowing them to view product information beforehand can go a long way toward developing a better rounded conversation that feels less like a sales pitch from your employee and more like a mutual agreement as to why a product is right for them. Many companies are now utilizing tablets to accept orders, so iPad Air wall mounts are often used as docking stations or standing desks after employees return from the sales floor. By using wall holders for tablets, restaurants and stores alike can have customers punch in orders that are placed instantly to have employees grab them. Also mount these displays in conference rooms to post schedules and designate them as occupied or available.
Where are iPad Air wall mounts best used?
Busy restaurants, bars, and diners use these tablet holders as a replacement to traditional paper order tickets, which can get lost or damaged. Digital ordering systems allow waitstaff and cooks to communicate instantly, maintain order status and sequence, and track order placement so nothing is missed.
Retail stores take advantage of tablet wall mounts in many ways — as POS systems, product reference guides, inventory management tools, and as interactive marketing displays on the customer-facing side. Present product catalogs for your guests to sort through on their own time, or supplement your employee workflow with digital tools that keep all of the back-end information at their fingertips.
Trade shows require versatile, easy to manage tools that can assist both the exhibitor in presenting and passersby in absorbing a product. Tablet wall mounts for trade show booths can be used as a quick-self service product demo tool to keep new guests occupied while your limited staff handles other questions or by assisting employees with taking orders.
Wall tablet holders are great for residential use as well. Many of these iPad air holders are multi-purpose and can be used as wall mounts, countertop displays or handheld devices. Hang up the iPad to watch Netflix or look at recipes while working in the kitchen. Once finished, take the handheld display on the go to browse the internet on the couch or do some reading in bed. Take advantage of any of our iPad holders and stands to fit any generation of tablet. The versatility of these holders makes them ideal for home or commercial use.