Replacement Stanchion Belts for QueuePole.Economy with Color and Custom Print Options
---
Replacement Belt Cassettes for QueuePole.Economy Stanchions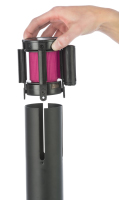 Is your crowd control system looking a little worn down? Replacement stanchion belts are a great way to maintain and update these everyday fixtures. When customers are lined up, they're bound to bump into, rub up against, and touch these nylon bands. Over time, that can lead to fraying, fading, and outright breakage that can render your crowd control barriers looking run-down, or worse, ineffective. Instead of buying a whole new post, pick up one of these retractable replacement stanchion belts! Designed to fit onto QueuePole.Economy fixtures, these cassettes can be swapped out in minutes with just a screwdriver. Because the unit ships fully-assembled, setup is as easy as can be. Maintain your crowd control with these replacement stanchion belts for QueuePole.Economy posts.
What are some features of these nylon band cassettes?
A four-way post adaptor allows for a variety of crowd control setups. Easily create snaking checkout lines and change configurations on the fly.
The 6.5-foot long stanchion belts cover a large area, reducing the number of posts needed. Thanks to their retractability, these nylon bands can be set at any length up to their maximum, giving you complete control over your queue line setup.
Advertise your brand with custom printing! 1, 2, or 3-color silkscreening puts your logo right where customers will see it. Choose from single or double-sided printing.
Just looking for a change of style? Even if your nylon bands aren't worn out, it might be time for a little refresh. With a variety of colors available, it's easy to fit your decor style. Match your crowd control to seasonal events, as well. Show your support this October with a pink band retractable cassette for Breast Cancer Awareness Month. You don't need to buy a whole new set of posts to add some company branding, either. Get folks excited about an upcoming event or product launch with custom printing.