Modern Office Tables Add Contemporary Style to Workspaces
---
Complement Your Interior Office Décor with Modern Work Tables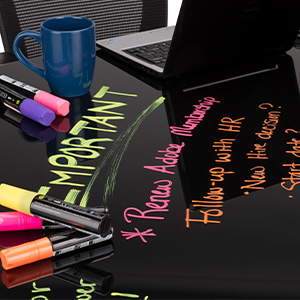 Today's workspaces aren't the stuffy interior environment they used to be. Modern office tables breathe fresh air into any home or commercial business. The furnishings feature light and open designs, making great choices for desks, workstations, even platforms for product display. Modern office tables offer minimalist functionality without the extraneous details. Some think the style is too cold. The fact of the matter is, when it comes to a working environment, getting the job done is what counts. Our modern office tables are designed to keep you on track and organized while adding a splash of color to your interior decor.
What contemporary furnishings do we have to offer?
Modern office tables featuring infinity glass tabletops come with many great features. Use the smooth surface to write down notes or outline project plans with dry-erase markers. Choose frosted white or black glass tops in small or large sizes. Durable steel legs with tapered designs add an industrial look while the floor levelers assure solid and wobble-free stability.
Rustic models featuring industrial black pipe framing with wooden tabletops have been a popular choice for retailers in recent years. The style is also suitable for workspaces and studios thanks to the warmth of the real wood surfaces. An optional secondary tier located at the rear of the table lets you display accessories such as plants, collectibles, and other personal items.
The main defining feature of all styles is the minimalist design. No curves, just simple vertical and horizontal lines to keep things clean. Solid wood "waterfall" tables offer a prime example of this aesthetic. A continuous slab effect is created when each side of the tabletop extends down to the floor. A futuristic style if there ever was one, these fashionable models are available in three colors and two sizes.
Open-plan work rooms that maximize floor space and reduce overhead costs are becoming the norm. Without a traditional cubicle, many workers still like to create a sense of "personal space and style." Let these contemporary furnishings add a shot of color and warmth to complement their working environment. Want to define zones even further while still encouraging employee collaboration? Desktop dividers with frosted glass panels help to reduce distractions from your peripheral vision.