Navigator Series iPad Kiosks - Locking Floor Standing Tablet Enclosures
---
Locking iPad and Tablet Kiosks from Displays2go's Navigator Series
Need a durable yet affordable solution to use your tablet in public? Our Navigator series iPad kiosks all lock, making them an ideal choice for use in stores, restaurants, and at events. These exclusive tablet stands are constructed of solid steel, making them the most long-lasting, sturdy, and secure tablet stands we carry. Trust in Navigator series iPad kiosks to keep your devices safe in busy public areas without the fear of theft or damage. Each stand comes with built-in cable management and an integrated power source, so keeping your tablet charged is easy! The heavy-duty enclosure at the top of each stand can optionally hide the home button to keep the device on the appropriate app. Users can even switch the enclosure from landscape to portrait orientation, depending on their needs. You can rely on the Navigator series to confidently display and protect your investment at all times, in all locations!
Compatibility
Our wide selection of kiosks are able to accommodate tablets of various models. This includes the iPad, Pro, and Air models with dimensions 9.7", 10.5", 11", and 12.9", as well as iPad Mini generations 1 through 5. They can also fit Microsoft's Surface Pro line, generations 3 through 7. The enclosures can be rotated to allow portrait or landscape (vertical or horizontal) orientations.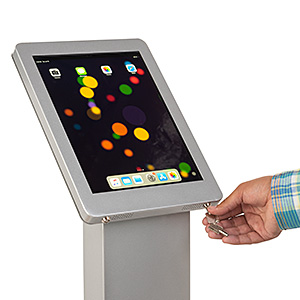 Security
Locking iPad kiosks help secure valuable unattended electronics in high-traffic business environments. Tamper-proof device enclosures ensure that customers can not download unwanted apps or content, fiddle with power cords, or walk away with any tablet. Use an anti-theft kiosk to protect digital gadgets that help support your exhibit, sale, or demonstration while keeping them under lock and key.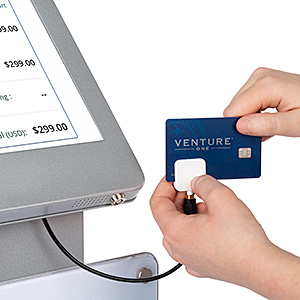 Promotion
Every event is an opportunity to make sales with these locking iPad kiosks. Many models are compatible with optional Square card readers, making it easy to take customer payment information on the go at pop-up stores, food trucks, and trade shows. This allows vendors to not only promote their products during off-site events but also gives businesses a way to send new customers home with exciting new products.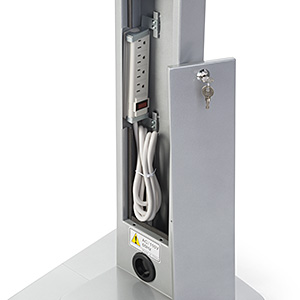 Cable Management
These all-in-one iPad tablet holders include a cable management system that not only tucks away unsightly wires but also houses an integrated power strip. This allows our users to accommodate other supporting electronics, power illuminated signage, charge cell phones, and other gadgets. Proper cable management maintains a clean, professional appearance while reducing clutter and the risk of damage.