Monitor Risers Help Reduce Eye and Neck Strain
---
Glass and Acrylic Risers for Healthier Computing in the Workplace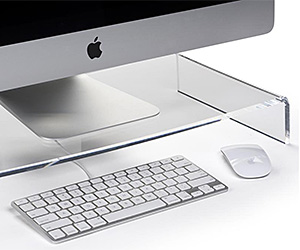 Out of all the desktop accessories available in the marketplace, one in particular can actually improve your work environment. Monitor risers increase the comfort level especially when spending large amounts of time sitting in front of a computer screen. Without proper ergonomic placement, eye and back strain can take a toll on posture and overall health. Our tabletop monitor risers elevate screens to eye level while enhancing your workspace in other respects.
What can these desktop computer stands do for me?
Better Posture — raising the viewing screen high enough so your eyes are looking straight ahead is the main goal. And, this motion creates a chain-reaction through the rest of the body from the neck down to the spine. The result is a healthier, slouch-free posture that improves comfort levels.
Desktop Organization — their small footprint and universal application supports any screen. In addition to elevating the monitor, risers create extra space beneath. Need some room to write? Free up the desktop by sliding the keyboard underneath the stand. If your screen already adjusts up or down, you can place the monitor behind the riser and use it as a shelf. Keep items or accessories close at hand and within easy reach.
Stylish Options — Shop for clear, white, or black monitor risers in either acrylic or tempered glass. Some models feature adjustable stainless steel standoffs that achieve perfect leveling. Another option is the lazy susan. These rotating discs support a lot of weight while providing smooth 360° panning. If you find yourself needing to constantly point your screen to another colleague, these turntables make the operation easy. Retailers also like to use lazy susans for receiving payment via iPad. Thanks to the spinning action, tablet stands swivel effortlessly between employee and shopper at time of checkout.
Designed for use with computer screens or small TVs, these stands also support laptops. Simply place the machine on the shelf and plug in an auxiliary mouse and keyboard. This arrangement works well for employees who use a portable computer. Workers can use their workbook on the road yet still bring it into the office without requiring a second desktop setup. If you are looking for increased flexibility, desktop-mounted monitor arms offer adjustability in any direction. These brackets are excellent tools for employees, especially if they use more than one screen at their desk.