Floor Standing Charge Stations Provide Courtesy Battery Boosting for Phones & Tablets
---
Multi Device Charging Stations for Tablets and Phones
People on-the-go always have one eye on their battery level. With floor standing charge stations, you can cater to visitors while getting something back in return. Designed as a courtesy service for people in public areas, these battery-boosting fixtures provide helpful assistance when a device is low on juice. Floor standing charge stations can even make a difference to your bottom line. Drawing patrons into your trade show booth or place of business means they will stay there longer. Now on the inside, people just might become potential customers by making a purchase. Our public floor standing charge stations feature colorful graphics, power cords, and convenient shelves or pockets for accommodating cell phones and/or tablets. What's more, you can use these advertising kiosks to target consumers with marketing graphics like slogans, logos, and brands.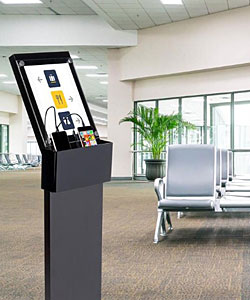 Why should I offer free device charging to the general public?
Floor standing charge stations tell people you are keeping them in mind. When visitors see this free amenity, you are affording a more engaging environment while improving the customer experience. This puts your business in a positive light by becoming a "go-to" location people can rely on.
Dwell times are increased. For example, the more a patron stays inside your cafe or coffeehouse, the better chance he or she will buy what you are selling.
Free phone charging is gaining momentum. What is a nuisance for most people is now a marketable strategy for professionals, service providers, trade show exhibitors, and restaurant proprietors. It also provides an opportunity for increasing brand awareness and company recognition through custom-printed graphics.
More reasons to buy charging stations:
Freestanding — thanks to their easy-to-move designs, these kiosks can be placed just about anywhere to grab customer attention. The obvious goal is to get people through your door, but don't think exclusively in terms of ROI. It's often been said that the best marketing strategy is "to care". Therefore, this free service is more about improving the customer experience rather than an all-or-nothing revenue stream.
Multi-Device — our charging solutions will accommodate almost any type of cell phone. However, they also support iPads, PC tablets, and notebooks. The included power cables feature Apple® Lightning and Micro-USB plug-ins for up to 10 devices at a time.
Shelves and Pockets — provide a place for customers to set their phones while connected. Depending on the model, we offer stands with either shelving or slots for convenience.
Advertising Space — many styles come with poster snap frames or smaller sign holders in both single and double-sided designs. Insert graphics that advertise your services while promoting your brand. This one-two marketing punch further enhances the partnership between "business" and "consumer".
Literature Holders — displaying take-home brochures and pamphlets is an important task for those exhibiting at trade shows. Or, if you are a service-oriented business, you can offer rates, contractual terms, and other company information while a customer charges their device.
Stock or Custom Graphics — some of our stations feature colorful designs that point attention to this free courtesy. These are stock graphics that come with the displays. But if you wish to personalize your kiosk with custom text, we offer that too!
It's good practice to provide seating next or near the kiosks so people can relax while charging their phones or tablets. What are some real-case scenarios? In addition to the retail applications in shopping malls, think about food courts, waiting rooms, libraries and bookstores, schools and universities, museums, and company lobbies. Freestanding device chargers offer real convenience! Charging stations that mount to walls perform the same function without using up floor space. Either way, the benefits of prolonging a customer's stay are many. People are always on the lookout for a place to charge their phone. Provide a reason to make them stick around longer!