Wooden Display Racks Add Warmth to Retail Interiors
---
Wooden Display Racks - Quality Rustic Store Fixtures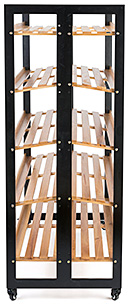 Looking to create a Pinterest-worthy retail space? Wooden display racks can instantly make your store more inviting and memorable. Pair them with other wooden display fixtures for a cohesive look or mix them with more modern units to add warmth. With their timeless and natural appearance, wooden furniture and floor displays have become mainstays in retail businesses large and small.
Wooden retail racks and shelves come in a variety of styles to fit practically any display need, including:
Crate & Basket Stands - for bulk products and dump displays.
Etageres - for easy viewing of merchandise.
Display Carts - for more unique merchandising capabilities, including flowers and clothing showcases.
Wood Bookcases and Hutches - for displaying heavier products like books, housewares, and more.
Wall Shelves - for adding decorative accents to your wall space.
These wooden display racks for retail stores can be used to showcase and enhance nearly any product, such as clothing, jewelry, housewares, collectibles, food, wine, and much more. They not only provide a means to display merchandise, but also draw more attention to your products with their attractive look. Wooden retail shelving units are great for creating a rustic appearance, popular in country stores, craft shows, and local grocery markets.
Creating a distinct shopping experience not only draws in customers, but keeps them coming back. The warmth and natural look of wood display racks and shelving effortlessly establish and reinforce a store's mood. Displays2go's selection of wood fixtures includes popular finishes such as pine, oak, maple, mahogany, and much more to fit any aesthetic or theme.
We carry many wood and rustic displays to create a distinct look for your store. Browse our collection of wood barrels and crates, rustic nesting tables, and wooden literature racks to outfit your retail space.