Industrial Rustic Retail Fixtures Add Urban Style and Dimension to Any Setting
---
Modern Industrial Style Displays and Tables Create the "Cool" That You Covet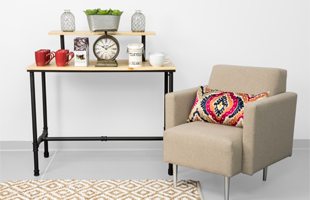 Sometimes it's not always easy to create a chic and stylish feel in your store, office space, or home. Our industrial rustic retail fixtures make that job simple. With a variety of pieces that add character and a modern style to any environment, these pipeline and vintage-style displays resourcefully create storage space and an open setting for clothing, plates and glassware, store merchandise, and home décor. Urban rustic retail fixtures are effortlessly enticing, adding luxurious texture and dimension to any room, while still providing functionality. Making small design changes wherever you can allow you to build a space that speaks to your style and personality. Your goal is to create an arresting experience that draws your customer in and ultimately helps you move product. These rustic retail fixtures are perfect for outfitting modern offices, cafes, retail stores or the home. And honestly… many people try to DIY pipeline or industrial furniture — we've made buying the units less expensive than tracking down the individual components and assembling them yourself.
What kind of displays can I create using rustic pipe and steam-punk style pieces?
Our industrial rustic retail fixtures can be used in a variety of ways to enhance a space. Boutique or clothing stores use fixtures like pipeline garment racks to display merchandise. Available in a variety of styles, these stands are a great solution to presenting merchandise like blouses, jackets, and dresses. The vintage look helps accentuate your pieces and gives your store character.
These clothing racks can be used in homes as well for hanging and organizing your wardrobe. Adding vintage pieces to your home will instantly give it a modernized feel.
Creating open shelving is something that consumers of all types respond well to. Super trendy merchandise displays lend to a sense of "now-ness" that can't be ignored. Modern wall mounted pieces instantly add texture, as well as functionality, to any environment.
In homes and offices, urban-style wall mounted racks are used for storage as well as for decorating. Display plants, artwork, candles, and other decorative pieces to make the space your own. You landed on this page, clearly you have style. Show it off in your home!
Larger outrigger wall systems add interest and dimension to stores while keeping merchandise organized and accessible for patrons.
Racks with a wagon wheel-style are available with or without a removable shelf, and are ideal for clothing displays as well. With lockable wheels, these units can be moved around within a store to create optimal visibility amongst customers.
Wheeled racks come in handy for dressing rooms — when customers are done trying on clothes, employees can return garments back to their original place in the store with ease.
Store owners can create modern displays with wagon wheel-style pieces. The steampunk-inspired wheels can move and lock for a more mobile display, and they add a rustic and vintage feel to the room. Available in different finishes of natural wood, these tabletop units are ideal for presenting clothing, shoes, and small products.
Wagon wheel-style nesting table sets are versatile enough to be used in the home for displaying décor like vases and candles — or even used as a coffee table.
The functionality and character of industrial displays makes it so appealing to users. These pieces are versatile, durable, cool and can be easily assembled. Stores have the freedom to create vintage, open displays to showcase their merchandise. Thinking about ways to set up your business? Check out our article on how to get the most out of your store using visual merchandising - and use our pipeline display pieces to make it happen!