Step & Repeat Event Fixtures and Kits with Portable Frames
---
Step & Repeat Banners and Backdrops for Event Photography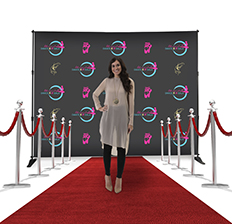 Looking for a decorative background to complete the scene at an upcoming party or gala? Our step & repeat event fixtures are a great solution for corporate functions, award shows, and even weddings. These banners are often used at places where there's a professional photography presence to create a "celebrity like" atmosphere. The special pattern of step & repeat event fixtures allows for a logo or emblem to be visible even though people are standing in front of it. Fully customize any banner with logos, messages, and artwork of your choice. These event fixtures are available in two different sizes to give you options based on what your preferences are. Browse through our decorative backdrop collection to find the one perfect for your special occasion!
Why should I choose these backgrounds for my upcoming function?
Step & repeat event fixtures are made from durable vinyl - capable of withstanding the wear-and-tear of the party. For those reusing the decorative backdrop, this material makes it possible to do just that without the artwork fading. Your banner will look brand new after each special occasion.
These decorative backgrounds are available in smaller 8' banners and larger 20' backdrops. The size options allow for customers to choose a background based on their function's needs. Bigger galas or award ceremonies may require a larger banner while a couple celebrating a wedding might only want an 8' backdrop.
To make it easier for the customer, we conveniently have kits available to create an all-in-one experience. Choose from a variety of bundles! If you're looking for something more simple, select the frame and vinyl graphic combination. Frame and backdrop combos are also available with a red carpet, a red carpet with stanchions, and an all-in-one package that includes a travel case with wheels!
Vinyl graphics, frames, and red carpet to accompany your decorative backdrop are all sold separately for both the 8' and 20' backgrounds. Frame or graphics malfunction? Don't worry — replace it easily and receive it fast. Want to give your function a formal, upscale feel? Add some red carpet!
These backgrounds can be personalized and all about your brand. Custom-print with logos, phrases, and artwork! Send us what you'd like and we'll make it happen.
Sometimes overlooked, this type of background can also get its name from the actual act of individuals stepping in front of a background to take a picture and then repeating the same pose farther down the backdrop — think award shows like the Oscars! Besides the more obvious award ceremony, gala, or corporate event, these backgrounds can be found at trade shows and are used for marketing purposes. Why not add extra stanchions to the mix too! Companies can set up a photo booth with their emblem or logo printed on the backdrop for visitors to pose in front of! What can these banners do for you? Browse through our selection and find out today!