Outdoor Printed Pavement Signs and Sandwich Boards for Curbside Advertising
---
Custom Printed Signs — Plastic, Swinger, and Fillable Base Pavement Stands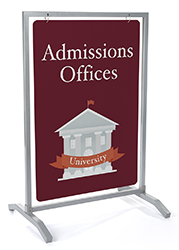 How can outdoor printed pavement signs help you meet your sales goals? Curb signage placed outside of your establishment generates foot and motorist traffic. To that end, Displays2go offers an array of plastic a-frame, metal swinger, and fillable-base stands built for outside use. Our weather-resistant sandwich boards feature plastic or metal construction. We also offer custom UV printing and vinyl lettering options. Expanding your customer base is easy and affordable with the right sidewalk signage! Custom sandwich boards are essential for businesses with street side storefronts, allowing business owners to advertise effectively in outdoor environments. Our these custom printed signs will help you establish your brand and effectively display promotions and offers to your customers passing by.
Promote menu items, new store merchandise, sales, and events with custom sign panels and outdoor-rated signage. Craft a call to action from right outside your store. Our sandwich boards are perfect for retail stores, cafes, restaurants, and service establishments. Check out header and side panel printing options to maximize brand reach. Is it important for you to move the fixtures around a lot? Some of our signage includes built-in handles and wheels. Most of these models are dual-sided to optimize exposure to messaging.
Our curbside signage comes in an array of sizes, single- or double-sided. Dual-sided outdoor printed pavement signs enable passersby to view graphics on both sides of a sidewalk. Our a-boards have a collapsible design for mobility and storage. These outdoor custom printed sidewalk signs are the most basic of advertising tools. They are probably the most effective, as well. For anyone with a brick-and-mortar presence, this signage is a must-have in your marketing toolkit!
What style a-board systems are available for outside advertising?
Outdoor printed pavement signs in corrugated plastic come with full color UV graphics.
Metal swinger frames have a T-style base and ring hooks that attach to an aluminum panel with UV printed custom graphics.
Fillable base styles with custom printing can be filled with sand or water for anchorage on windy and stormy days.
Our weather-resistant signs with Coroplast™ inserts feature a collapsible design for easy transport and storage. Full color UV digital printing applications ensure that branded graphics and text pops! Our economy vinyl adhesive alternative, available only with our pylon models, is great for people on a budget. It has six print font options for artwork and lettering. Buy hold tabs for extra security. Check out models with wheels and a built-in handle if you move your stands daily. Sand ballasting holes for sand loading give you the option of adding weight. Maximize brand reach by purchasing boards with headers and side panels for messaging. Plastic signage is a way to keep prices down without sacrificing quality or function.
Metal curb signage is of weather-resistant metal aluminum composite. Promote merchandise and services by placing these stands outside a store or business. These signs are also perfect way finding tools. A weighted T-base frame features ring hooks for attaching your personal artwork. This swinger-frame panel sways in the breeze so it is more stable in windy weather. We print custom UV digital graphics and text in full color using the artwork you send us with your order. These custom printed sign panels feature high-resolution graphics that are fade-resistant and hard-wearing.
Our weighted base signs and spring frames with edge clips feature wind-deflecting panels. This type of stand is perfect for waterfront locations. These signs work well in places that experience wind gusts, like wind-funneled city areas. Custom water base sidewalk signs offer sing or double-sided printing. Extra ballast for filling with water or sand keeps the unit anchored.
We offer two printing options. For custom UV printing, you send us your artwork and we run it through a flatbed printer in-house to make the sign. Then we apply the permanent image to a corrugated plastic panel. Our economy lettering option for pylon models in a one-color vinyl adhesive application comes with 10 available text colors and fonts to choose from. This option is great for people on a budget or for secondary signage. Change out your current insert with a new plastic panel replacement.
Shop Displays2Go for plastic, swinger-style metal, and fillable base pavement signs in a variety of configurations and styles. Choose a-frame plastic signs with header options and side panels to increase branded messaging opportunities. Durable, resistant to rain and wind, all of our shop signs and color graphics are affordable and long-lasting. Plus, we ship fast and to your door! Displays2go's selection of sandwich boards offers excellent value for the price. Buy in bulk and enjoy deep discounts!
Note to customers: Remember to check city or town zoning laws to make sure your store or business is in compliance when you put out your sign.