Video Wall Mounts for Dynamic Visual Presentations
---
Design Your Own Hi-Res Digital Canvas with Video Wall Mount Brackets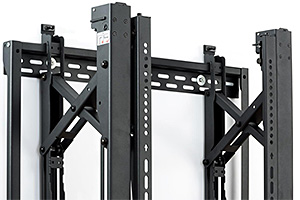 When it comes to visualizing an engaging presentation, there's one system that surpasses all others. Video wall mounts provide the backbone for tiling together a number of screens into one integrated display surface. Evolving from front projection technology, these visual solutions help to deliver art or information whether inside a museum or behind a food service counter. Displays2go offers a large selection of video wall mounts that support a wide range of monitor sizes from 30" to 70". If you are planning to display running video that spreads from one screen to the next, thin monitor bezels are the right choice. On the other hand, if you want to hang three TVs to display menu items, the bezel width isn't as important. Many mounts feature pop-out extensions and micro-adjustments for a perfect installation.
Why spend money on a multiple monitor system instead of a single (projected) screen?
Performance plays a big role. Video wall mounts, combined with ultra-thin bezel screens, come together to make a large, scalable picture. For example, when more monitors are added to a video wall, the higher the resolution becomes. In contrast, the more a projection screen is enlarged, the image quality is sacrificed. The cost for a single LCD or LED screen the size of six 55" TVs would be exorbitant. This is why video walls are pieced together with multiple screens.
Flat screen TVs have solved the ambient light problem — what we call the "washed-out" effect. Brightness levels and colors (especially blacks) remain strong even when exposed to windows or overhead lighting.
Most flatscreen systems are intended for permanent, wall mounted display. Depending on the number of monitors you plan on using, we offer brackets that hold anywhere from two to nine TVs. All mounts come with micro adjustments which give you the ability to tweak each screen in any direction for a perfect fit. However, the main difference between standard and deluxe models is the pop-out feature. The deluxe brackets let you pull the screen out from the wall for easier access to the adjustments. This is especially helpful when attempting to adjust a monitor when it is surrounded by others.
Another system up for consideration is the mobile flatscreen cart. These are designed for situations when a temporary setup is required. Retail sales floors, trade show booths, and showrooms are just a few examples of a how a temporary display can be applied. The video carts come with adjustable brackets that are attached to a fixed frame. The rolling casters offer easy mobility when moving the display around. As another option, you can also choose to use stationary feet (with levelers) if the structure isn't going to be moved.
While Displays2go primarily sells mounting brackets, we also offer commercial-grade LED video screens with super-thin bezels to fit them. Available in two sizes, these TVs are designed for 24/7 operation and come with integrated content management software. If you are looking to purchase an all-in-one system, bundled video wall packages offer hassle-free shopping!
Large format video systems elevate any digital presentation to the next level. By combining multiple screens into a single, integrated display, an immersive experience is created. What kinds of applications are possible? Drive enveloping ad content in retail shopping centers. Deliver a persuasive brand experience inside corporate office lobbies. Present and share ideas in meeting and conference rooms. Communicate informational simulations or other big data at the educational level. Display easy-to-update food menus in fast food restaurants and cafeterias. Provide effective video surveillance systems for security or control rooms. Any situation where multiple views need to be seen in one compact setup is a candidate for a video wall! The main point to remember is everything is at native resolution. Graphics and imagery are presented in the best possible quality. Whether you are standing up close or a hundred feet away in a lecture hall, the experience is captivating!