Custom Printed Acrylic Literature Holders - Add Your Company Logo or Message
---
Brochure Holders with Custom UV Full-Color Printing
Looking for a way to display pamphlets and other takeaway materials? Custom printed acrylic literature holders house valuable informative brochures and help take your branding efforts to the next level. These pockets can be imprinted in full color using the digital UV process , creating photographic quality images. Custom printed acrylic literature holders for trade shows can feature a company logo or slogan to help inform passersby a little more about the takeaway material that's being displayed. Plastic tri-fold organizers are useful in locations like expo events, job fairs, and doctors' offices. Acrylic literature holders come in numerous styles to fit promotions of sizes — even magazines. Browse through our catalog to find one best suited for your needs or your business.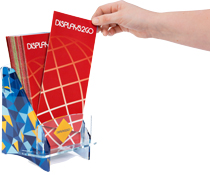 What types of brochure pockets are available for my office or trade show booth?
Custom printed acrylic literature holders come in single pocket countertop designs to house larger material like magazines. Available in clear or black acrylic, companies can imprint their name and logo on the front to elevate their branding efforts.
Racks to house standard sized brochure holders come in many styles, and some even have customization options to the front and the sides of the holder. Imprint enticing designs and feature a logo to help draw attention to your takeaway tri-fold. Passersby will notice the pocket's design and be more likely to stop and grab the informative pamphlets.
Multi-slot 4" x 9" brochure organizers are available with 4, 6, 8, and 10 pockets. This lets you fill the display with a variety of takeaway material. The entire front panel is customizable — meaning ample space for full-color UV printing. Mount these promotional organizers on the wall or situate them on countertops.
There's always a time and place to add additional branding opportunities to your business. With customized brochure and pamphlet organizers it has never been easier. Plus, the UV printing process leaves you with clear and vivid graphics. Don't worry about your business' logo not standing out! These pamphlet displays are all built in-house as a part of our Workshop line of products. Within our on-site location, we use high-quality materials to build each item. Customers will have peace of mind that their promotional stands are made to last. Looking for another way to elevate your branding efforts? Inexpensive brochure displays with sign frames are a great way to promote your business. Shop online at Displays2go for your signage needs!