Floor Stand Brochure Holders with Poster Frames, Spinning Shelves, & Curved Designs
---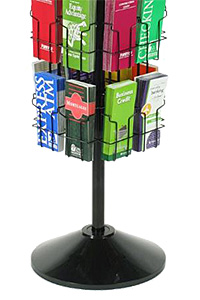 Floor Standing Holders for Brochures and Pamphlets
Want your printed media to make an impression? Our floor stand brochure holders are made for high visibility. These freestanding literature racks are great for marketing because they have a large numbers of pamphlet pockets. Many fixtures are paired with a poster frame for advertising from a distance. Floor stand brochure holders are usually larger than their tabletop and wall mounted counterparts, allowing them to hold more leaflets. The standing flyer displays are offered in sturdy metal, acrylic, and wood fabrications for distributing promotional materials in high traffic areas. The floor stand brochure holders are available in a wide variety of shapes and sizes to meet the needs of any organization that wants to increase their branding presence.
What styles of leaflet dispensers do we offer?
Floor stand brochure holders with a poster frame are great for increasing visibility. It's easy to attract passersby to your leaflets with a large 24" x 36" sign. These fixtures can feature advertisements, wayfinding information, maps, menus. Signage is featured vertically or tilted up to eye level. Some of our metal units have a modern, wavy sign display that captures attention with its unique shape.
Double sided brochure holders are ideal for trade shows, store floors, and mallways. These will promote to both sides of foot traffic, increasing your outreach. Most standing pamphlet racks have double sided poster frames as well. If you're looking to feature your flyers at events, portable literature holders are great for trade shows and job fairs because they're easy to knock down and set up.
Spinner brochure holders maximize your space for promoting your message. These rotating literature racks have two, three, or four sided shelving that hold more flyers in a smaller space. The compact leaflet spinners showcase their promotional materials in all directions — they're a great choice for boosting your visibility. Look out for models with a top mounted signage frame that create eye-catching advertisers.
Metal, plastic, and wood shelving for pamphlets is offered to suit different environments. Aluminum, steel, and wire fixtures are sturdy and sleek. Metal units have unique curved designs and shiny finishes that easily grab attention. Plastic, namely acrylic, also features a modern appearance that matches marketing materials while prioritizing visibility. Wooden literature racks look traditional with oak and mahogany finishes. Wood adds warmth to waiting rooms and lobbies.
Most freestanding flyer holders have a multi-tiered design that gives them a large display capacity. This is ideal for featuring different companies' information in shared buildings or promoting a business's many services. Alternatively, their high capacity shelving can feature more of the same materials when demand is high. If you want to get the word out to a lot of people, prepare with lots of copies and a way to display them!
Freestanding pamphlet holders are made with high visibility in mind, ensuring that people will see your advertising materials. Many feature clear acrylic pockets that show the leaflets' cover. Metal fixtures are made with mesh slots that gives passersby a "preview" of your artwork and messaging. See-through slots are recommended for flyers with eye-catching artwork with vibrant color.