Counter Brochure Holders - Shop Literature Pockets By Material
---
Tabletop Tri-Fold Brochure Holders Offer Takeaway Literature Within Easy Reach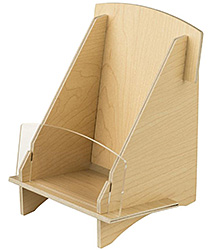 Offering company services, rates, or other free information demands a professional presentation. Counter brochure holders provide businesses with organized convenience. Anytime a salesperson or agent is explaining or selling a service, 9 times out of 10 they will reach for a tri-folded pamphlet. In addition, displaying counter brochure holders on desks or tabletops also entices customers to take one. Distributing company information is the key to increased sales. Buy promotional counter brochure holders in bulk to ensure your marketing efforts cover all the bases!
Which materials are available for tabletop literature pockets?
Plastic counter brochure holders offer (by far) the largest selection. The clear material gives your pamphlets the best visibility. We stock acrylic countertop literature racks featuring heat-form and solvent glue construction. Other styles offer one-piece injection-molded polystyrene, as well as flexible PVC pockets that ship flat for assembly later. Optional custom printing (on select models) provides a novel way to extend the reach of your brand.
Metal brochure pockets offer excellent durability without the breakage that can occur with plastic versions. The majority are manufactured with thick steel wire in standalone or fold-flat designs. Your tri-fold pamphlets remain just as visible as in the clear acrylic pockets — all at an affordable price. We sell countertop holders with black, silver, and chrome finishes.
Wood literature racks add a sense of style to interiors thanks to their warm stained finishes. Fabricated from real hardwood, MDF, or plywood, the natural material looks great in upscale offices and waiting room environments. A wooden pocket accents your literature most attractively, calling attention to it like a piece of furniture.
Cardboard pamphlet pockets offer the same functionality but at the lowest cost. These styles are die-cut and shipped out flat for you to fold and assemble on your end. Choose from black, blue, or white finishes. The customizable option offers printing on all sides for advertising your company logo, slogan, or other imagery. Due to the cardboard's low price tag, minimum order quantities are required.
Tabletop literature holders for tri-fold brochures are tried-and-true marketing tools. Once you've made a material choice from the styles above, next up are the designs. We sell single pocket models that display one pamphlet as well as multi-pocket racks with multiple tiers. Countertop spinners can hold many brochures within a small footprint. Holders paired with sign frames increase visibility while providing a call to action. These are just some of the 100+ models available online. Marketing and advertising at the professional level requires the right display solutions. Let these countertop holders do some of the legwork for you!