Charging Kiosks with Video Screens Feature Custom Graphics & Multimedia Content
---
Looking for something else?
Phone Charging Stations with Video Kiosks for Informational Event Displays
Are you looking for a powerful way to supercharge customer engagement? Keep guests updated on current affairs, and advertise at retail stores, malls, or trade shows while keeping clients connected using video kiosks. Our charging kiosks with video screens help keep customers connected during critical times when the battery life of their devices may run low. Improve customer experience with image and video advertisements or custom printed graphics while they wait to recharge at a courtesy docking station. Branded charging kiosks with video screens can be a lifesaver for event guests who rely on the longevity of their phone's battery life to do business and network. Why not let your organization be the hero? These personalized docking stations give organizers and exhibitors a way to captivate their audience and are an effective marketing tool to present engaging interactive multimedia content and enhance customer experience. Phone and tablet charging kiosks with video screens bolster the reach of your booth by showcasing your brand's messaging and providing an essential service that will help you stand out from the competition. Use a standing or wall-mounted courtesy recharge station to maximize the exposure of your brand's story and messaging while customers power up and wait.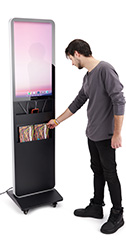 What types of branded docking stations do we offer?
Floor standing LED backlit charging kiosks with video screens feature an LCD advertisement panel and personalized illuminated artwork. Inform customers of your recent promotions or company message with photo slideshows, video, and music playback. Recharging towers are relatively lightweight and easy to move between events and offer guests a fully immersive experience that will help them remember your brand!
Wall mounted kiosks with video screens feature assorted cable connectors to ensure your customers can recharge no matter what kind of phone or device they have. Each docking station has plug-n-play functionality with UBS ports, an SD card slot, and mini-HDMI plug-ins for easy content uploads. Wall-mounted kiosks with video screens have pockets sized to fit both cell phones and tablets.
These courtesy recharging stations function as an interactive kiosk and are long-lasting and stylish. By providing an essential function to event guests, they will act as a social magnet to your booth. Upload custom static artwork or brand messages to each unit directly, and support your logo with multimedia content. Battery recharging kiosks with video screens also present a great sponsorship opportunity at any large-scale event by allowing you to sell video content time and personalized signage space to local businesses, thereby increasing their exposure to guests who are waiting for their devices to charge. Keep your customers connected during critical times by ensuring their battery life is always topped off and ready to go - they will be sure to thank you! Displays2go offers a large selection of tablet & iPad charging docks to empower any industry. Whether you need desktop stations, carts & trolleys, wireless recharging tables, locking cabinets or simple USB cords, Displays2go has you covered.