Countertop Single Monitor Mounts for Desktop Screens and Keyboards
---
Countertop Mounts for Single Monitors Organize Cluttered Workstations
Are you looking for a better way to neaten up crowded desk space? Our countertop single monitor mounts are designed to increase the productivity of your workplace by placing LCD or LED screens and keyboards on bracketed arms with swivel motion or compact design. We offer ergonomic sit-stand units with or without tilt capabilities for users to find the best position. Our countertop single monitor mounts feature clamps and surface mounting screws for tabletop use, creating a stable base for your workstation. Many desktop stands include a cable management system slot, ensuring computer screen and accessory wires won't get tangled and remain neatly out of sight. Use a countertop single monitor mount in office or residential settings to improve workflow and maintain an organized area. Many units feature adjustable viewing heights, angles, and vertical or horizontal orientations.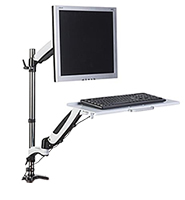 Where are these tabletop screen stands most effective?
Office countertop single monitor mounts are ideal for reception desks, customer check-in areas, and cubicles. An ergonomic work space boosts employee productivity by removing clutter, making employees work more efficiently, and maintain a healthier mental space. Tabletop TV stands help companies manage a professional environment.
Between bills, note stacks, and the relaxed nature of a home office, remote work desks can get incredibly messy incredibly fast. Use a single monitor mount to position your computer desktop screen higher and free up more valuable counter space. Take advantage of fixed or adjustable bracketed fixtures to organize your traditional sitting set-up or transform it into a standing desk.
Each single monitor mount is useful in retail settings by providing employees with an accessible place to search inventory for customers or to integrate with an existing point of sale system. Many pivoting POS systems here include an internal cable routing system to keep unsightly wires hidden. Simple attach a small screen or credit card system to these height adjustable single monitor mounts and you are ready to start taking orders!
Position LCD screens or small televisions horizontally or vertically to best compliment point of sale systems or to save space where needed. Some users even create side-by-side monitor mount displays, which is a great way to work on two projects or in two programs simultaneously. For more extensive installations, check out our multi-monitor stands, which support up to six screens! Shop Displays2go for all of your organizational home and office desktop needs, helping you and your workforce maintain productivity and the highest degree of professionalism.