LED Light Up Tables and Bars for Illuminated Nightclub Furniture
---
Illuminated LED Nightclub Bars and Light Up Tables
Are you looking for a modern, new age way to make a bold statement and a lasting impression at any nighttime or dimly lit environments? Our LED light up tables and bars provide venues with a diverse lighting array with 16 color changing options to match the mood or decor of the night. Illuminated furniture creates a spectacular display that brightens up tavern countertops and social lounges, creating an Instagram-worthy setting. LED light up tables and bars improve the ambiance of any dimly lit venue and increase the entertainment value of lounge furniture. Illuminated furniture is powerful way to garner attention at public concerts, pubs, nightclubs, and iseven a great way to spice up backyard patios. We provide LED light up tables and bars with standard lounge counters and matching cube stools for an all-in-one package as well as standing pedestals to promote pub-style conversations. Our illuminated color changing drink service counters are designed with storage, ice bins, and compartments to serve drinks and handle cash through a busy night. Lighted furniture creates a futuristic, upbeat aesthetic that will transform your venue from another stop on a night out into an iconic spot in town.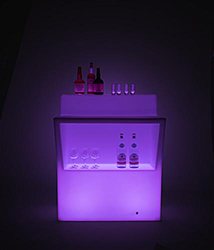 What different styles of lighted furniture do we offer?
LED light up tables and bars, such as square hightop cocktail stands, ice cube seating, and coffee tables feature spill-resistant tops. A perfect addition to any event space, these countertops make a great center for mingling between groups. Create stand alone islands in the middle of the dance floor, patio, or event that act as a beacon of conversation between your guests.
Our light up tables and bars include modular pub fixtures with extra features including storage, ice basins, and shelving. Pair corner units with straight countertops to build a system that works best for your venue. The modular design of these light up tables and bars make it a simple task to create a drink hub at a pop-up event or improve the atmosphere at your nightclub or cocktail lounge.
Some light up tables and bars come as a set with seating, which is perfect for setting up a quick lounge area at limited-time events or creating a memorable selfie station. Get the party started with lightweight sets that include 1 square or round tabletop and 2 chairs. Use the included remote to change the mood or atmosphere in seconds. Great for backyard parties, special events, and club lounges, these table and chair sets are sure to be the centerpiece of your guests' most memorable nights.
Our light up tables are available in square, curved, and tall boy styles. The slim standing cocktail models come with the option for a 3/8" thick acrylic top, providing additional surface area for drinks, food, and more. Purpose-built backlit furnishings are designed with ABS plastic, which stands up to the inevitable spilled drink. Each light up table with illuminated base is powered by a plug-in cord and rechargeable battery with 10 to 12 hours of operation from a single charge. Choose from variety of modes including static, single color, flash, strobe, fade, and smooth transitions between 16 colors. Everything from strobe to speed is easily managed through a wireless remote control, making it simple to slow the tempo and set the mood for a romantic night, or speed things to match the energy of a rave, club night, or live performance. During the daytime, these white light up tables stand out as classy and modern on their own merit, making them ideal for daily use even when not illuminated. For pop-up events, browse our selection of folding portable bars with lighted and custom printed options. These models are perfect for private parties, promotional event managers, and even for use at home.