Glow Furniture Decor Accessories for Events, Parties, & Receptions
---
Get the Party Started with Glowing Lounge Accessories!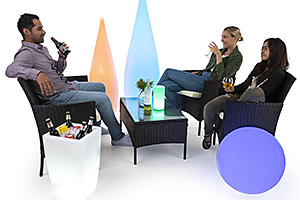 Displays2go has expanded its line of light-up chairs and tables! Glow furniture decor accessories further enhance the ambiance in any indoor or outdoor location. Whether they're intended for serving cold drinks or purely for decoration, our LED ornaments produce soft, mesmerizing light. Glow furniture decor accessories come in both small and large sizes for use on floors or tables. These light-up accents will add a fun atmosphere to trade shows, wedding receptions, and parties. Set the mood for lively conversation, drinks, and more by enticing visitors and patrons with futuristic LED ambiance!
Our glow furniture decor accessories are manufactured using a technique called rotomolding. The process injects white LLDPE plastic (linear low-density polyethylene) into a rotating mold. This produces an even wall thickness throughout the object while building up more material in the corners for added shock-resistance. As a result, our glow furniture decor accessories are hollow — yet lightweight and super-strong.
What kinds of LED lounge furnishings do we sell?
Glow furniture decor accessories in balls follow a long tradition of decorating with spheres. Their perfectly round shape is conducive to just about any interior or exterior design. We stock LED balls in three sizes — create elegant groupings or use them on their own to accent a corner of the room or an outdoor patio or courtyard. (Please note: these spheres do not float and cannot be put in a pool.)
Teardrops add a similar decorative flair but with a pointy head. The sharp, sculptural design produces an attractive gradient from the internal illumination. With the largest size approaching five feet in height, the teardrop model offers a commanding presence. Accentuate inside dark clubs and bars or place outside amongst the landscaping.
Luminous LED planters offer yet another tool for adding atmosphere to any occasion. The glowing lights are located in the base with the illumination rising gradually up to the top. Offered in short and tall models, light-up flower pots provide plenty of ambient lighting while highlighting plants, shrubs, or other greenery.
Nothing says "Party!" like an LED ice bucket. With its groovy colors and changing light effects, the pail instantly becomes an integral part of any night out. Use to chill beer, wine, or champagne while, at the same time, motivating your patrons to spend more money on drinks.
All models come with power cords and internal batteries that can operate for 10 to 12 hours on a single charge. The decorations can output in 16 different colors with color-shifting transitions (flash/dim/speed) all managed by remote control. The LED accessories are weather resistant and can handle rain, sprinklers, and pool splashes (but just not submerged or floated on water). These glowing decorations, like light-up tables and chairs, produce an otherworldly atmosphere for trade shows, lounges, receptions, and private parties. Maximize your drawing power in dimly lit interiors — the darker the environment, the more electrifying the result!