Ice Housings and Beverage Displays Chill Food and Drinks at Buffets and Catered Events
---
Portable Ice Displays and Beverage Holders with Decorative Housings and Removable Pans
Do you need a stylish way to offer chilled drinks and appetizers to guests? These ice housings display bottled beverages and snacks with class and sophistication. Self-service buffets, catered events, and outdoor dining areas need to keep offerings cool and easily accessible to guests. Our ice housings with removable trays are a convenient solution, containing any would-be mess from melting cubes and allowing workers to quickly change out food and drinks mid-service. Create stunning food displays filled with fresh fruit and parfaits for a hotel breakfast buffet or simply keep bottles of water cold at an outdoor celebration. These decorative ice housings are a welcome addition to any beverage station. Caterers, restaurants, and coffee shops use these portable fixtures to keep self-service lines moving efficiently and their customers happy.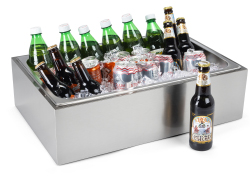 Where are these ice pan holders typically used?
Buffet-style meal service is common in places where food is offered as a courtesy, rather than the main reason for patrons to be there. College or workplace cafeterias and hotel dining rooms are two notable examples. Large groups of people can filter through during breakfast or lunch, grabbing small, pre-prepared food and drinks before moving on to other concerns. Using these ice housings as part of a buffet line can expand your offerings and help you deliver a better experience for your guests.
Often, cafes and coffee shops hand customers their drinks at the counter and designate a separate area where they can add mix-ins to their liking. Use a cooler tray on these self-service stations to keep containers of milk, creamer pods, and other perishables fresh and ready to use all morning. Decorative options with bamboo housing can be easily worked into your carefully-considered aesthetic, as well.
When giving a food service demonstration at a public event, refrigeration is not always readily accessible. You might be preparing a dish at a hospitality industry trade show or showcasing an example of the services and expertise your business offers, and you likely won't have all the amenities of a kitchen at your disposal. These portable ice bins are easy to take along and provide a neat, mess-free way to keep ingredients chilled and safe for consumption while you work the crowd.
Quick, on-the-go eats are a staple of outdoor events. Sometimes they're the main attraction (food festivals and cook-offs come to mind), but often it's just one part of the festivities, like at block parties and community fairs. Street vendors need to keep their ingredients cool and readily accessible to ensure that their stall or truck operates efficiently. Ice trays are an essential tool for these environments. The removable stainless steel pans are easy to wash and swap out, saving time and allowing them to serve hungry patrons faster.
Function is just one part of the equation when it comes to displaying beverages and snacks. The overall look and feel of your buffet line can have a significant impact on the way patrons perceive your business. Presenting guests with an array of attractive bamboo housings suits a warmer aesthetic, tying together a whole spread and creating a harmonious vibe. Alternatively, full stainless steel options carry an air cleanliness and professionalism; how you design the experience is up to you. When building a self-service beverage station or buffet table, cold and hot drink dispensers like carafes, airpots, and pitchers are an absolute necessity. Whether they've come for a meal or to just grab a coffee and go, give your guests everything they need to have an excellent experience in your business.