Safety Bollards and Sleeves for Protecting Indoor or Outdoor Areas
---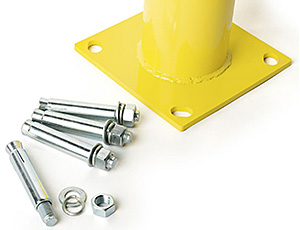 Strong Steel Pipe Bollards for Effective Barrier Protection
When it comes to safeguarding people and places, it's best to bring out the heavy artillery. Safety bollards and sleeves offer excellent defense against vehicular damage. Thanks to their robust steel construction, these post guards can also be filled with concrete for even more traffic-stopping power. Use safety bollards and sleeves to protect storefronts, pad-mounted transformers, pedestrian walkways, and warehouse aisles, to name but a few. Bright yellow powder-coated finishes provide high-visibility for enhanced security. We also offer stock and custom-printed covers that not only refresh worn out fixtures but also transform these safety bollards into beacons of decoration or advertising!
What types of yellow post guards do we have to offer?
Safety bollards come in two base styles. Surface-mount models are the easiest to install. Steel plates located at the base come with four holes for bolting into concrete surfaces. Pour-in-place bollards offer a permanent solution. These posts require excavation before being set in place with concrete. Welded anchoring pins near the base of the pole provide additional structural support.
Both styles feature lift-off top caps for filling with concrete if desired. The pour-in-place model offers the best defense against vehicle collisions for obvious reasons. Optional 1/4" slots located at the top of the pipe accept chains for linking poles in line.
In addition to our safety bollards, we also offer a way to push these yellow safeguards into service beyond their ordinary application. From a strictly decorative standpoint, you can update your posts with the changing seasons. Slide an American flag sleeve over poles during the 4th of July celebration. How about a candy cane cover for the holiday season? Decorating with fabric printed pole covers offers a novel way to refresh your storefront's curb appeal. If you are looking to push a new product or advertise a service of some kind, custom-printed wraps offer a means of displaying targeted content to potential customers before they even set foot inside. While these immovable barriers offer protection from moving vehicles, have you thought about crowd control requirements? Stanchions with retractable belts or ropes are movable and reusable displays made for queue lines, sectioning off crowds, and exhibitions.