Illuminated Trade Show Walls Draw Visitors in with Custom Printed LED-Backlit Graphics
---
Convention Backdrops with Backlit Graphics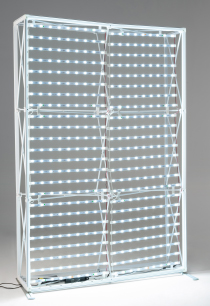 Do you need your booth to stand out from the crowd at industry events? These illuminated trade show walls feature interior LED lighting, which casts your graphics in a beautiful, soft glow. Everyone's competing for attention on the expo floor. Personable reps and promo items are great, but the first step to quality engagement is actually capturing some attention. These custom printed illuminated trade show walls draw visitors to your booth with a pop of vibrant color and glow. Underscore your branding by bringing out the fine details and vibrant hues of your customized backdrop. With their commanding presence, these illuminated trade show walls cut through the noise on busy expo floors and make your booth a focal point for potential clients. Putting up a full background graphic is a great start, now make it stand out from the competition with attention-grabbing back lighting.
What kinds of interior-lit event backdrops are available?
Pillowcase tension fabric — Lightweight, durable, and simple to set up, these event backgrounds are the go-to for many booths. An aluminum frame houses an inner LED array and acts as a skeleton for the graphic. The printed fabric is sewn together as a slipcover with a zippered edge, which makes for an incredibly easy setup experience. These illuminated trade show walls go up in minutes and immediately give any exhibition space a professional look.
Silicone Edge Graphics (SEG) — Sometimes called "push-fit," this printed backdrop is known for its clean, smooth appearance. The printed polyester tension fabric has a flexible strip along its perimeter that is pressed into grooves along the LED-lined aluminum frame. The result is a taut, wrinkle-free, seamless graphic that spans from edge-to-edge and glows from within. The non-glare polyester fabric makes this backdrop an excellent choice for photo ops, as well. Choose SEG if you're looking for clean lines and a vibrant, contemporary presentation.
Each backdrop comes custom printed with the graphic of your choice. In general, you have about 3 seconds to grab the attention of event-goers, so make sure your branding is big, bold, and noticeable. Best practices dictate that any graphics should be readable from at least 10 feet, so don't be afraid to adopt a "less-is-more" philosophy when designing an event backdrop. Once you've chosen a background, curating the experience inside your booth is the next big step. Maximize the use of your space with essential exhibit furnishings like foam flooring, counters, and seating or take things to the next level by integrating technology like iPad stands and monitors. Don't just be another face in the crowd at your next public outing — make your booth shine with a custom lighted backdrop!