Sneeze Guards in Countertop, Hanging, and Floor Standing Models
---
Need an extra layer of protection between employees and customers in retail, restaurants, convenience stores, and reception desks? Our sneeze guards help maintain social distancing rules and reinforce public health practices. These clear acrylic barriers, also known as plastic splash shields, help safeguard workers and guests from the spread of seasonal or airborne illnesses by creating physical separation between people with floorstanding and countertop options. For use in shopping centers, c-stores, food service, and salons and spas, our plexiglass and polycarbonate sneeze guards prevent cross-contamination from one area into another, especially for liquids. Maintain cleanliness in your office workplace or public space with plastic splash boxes that are easy to wash, and easier to install with countertop, hanging, and floor standing options. Our acrylic sneeze guards are ideal for any point-of-sale cashier and reception desks, including cash registers, and any other high-traffic area such as bank tellers, coffee shops, and take-out pick-up locations. By including a clear plexiglass barrier between employees and guests, your business can convey a message that it is taking the necessary precautions to protect everyone involved, which is a notion that each guest will appreciate.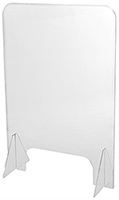 What is an acrylic sneeze guard used for?
Usually a plexiglass screen, these splash shields were originally designed to prevent food contamination in restaurants, buffets, and take-out areas. Clear plastic sneeze guards have since found a home in a number of industries, often creating space between c-store clerks, bank tellers, and receptionist and their customers. This protects both employees and guests from the spread of infectious illnesses, especially in peak seasons.
Clean your sneeze guard at room temperature with warm water and a mild soap or detergent solution for best results. Our customers choose these splash shields because they are easy to remove and re-install between shift cleanings, helping to maintain a healthy, sterile, environment for all who visit.
These plastic sneeze guards are most commonly used to prevent liquid spills, airborne contaminants, or viruses from spreading - however, other industries tend to use these as well including nail salons and doctors' offices. Create a level of physical distance and security with a plastic barrier.
What materials are these sneeze guards made from?
Acrylic/Plexiglass — These are two terms that refer to the same rigid substrate. This type of solid plastic offers incredible transparency and visibility as well as impact resistance up to 17 times that of glass. Acrylic sheets are well-suited to separating people during face-to-face interactions.
Flexible Transparent Films — Both the materials PET polyester film and PVC vinyl are less rigid and much lighter in weight than solid panel choices. They allow for knockdown, roll-up, and foldable form factors that can be easily transported and stored. Both are clear and effectively block airborne particles.
Polycarbonate — This clear panel material is solid and durable, offering about 250 times the impact resistance of glass and 30 times that of acrylic sheets. While it outperforms similar materials in strength, it offers less visibility, allowing a lower percentage of light to pass through. Polycarbonate is a great choice for high-traffic areas.
The spread of illness is something all workplaces should want to avoid, both to maintain a healthy and happy workforce, and to ease the minds of customers who visit. By showing everyone that you are invested in protecting the health of those who decide to frequent your location, you are in turn promoting the longevity and health of our business. Use these clear plastic sneeze guards to protect food in bakeries and grocery stores, create space for retail employees, and safeguard your customers. Browse Displays2go for other preventative tools to keep your workplace safe, and healthy during high-vulnerability seasons.