Trade Show Charging Counters Recharge Devices in Your Event Booth
---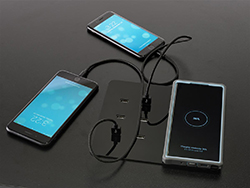 Promotional and Portable Charging Counters for Trade Shows
Want to accommodate event attendees while featuring your brand? These trade show charging counters will draw passerby into your booth by offering to charge their phones. Recharging personal devices is a great way to start a relationship with people in the industry and keep your employees in the booth happy. Trade show charging counters make it easy to strike up a conversation while smartphone batteries refill. Our portable solutions are ideal for bringing this convenience to commercial events. Browse our trade show charging counters for a modern solution to a common problem.
How can these phone recharging stations for events promote my company?
Our trade show charging counters are available with custom printed SEG wraps to feature your corporate logo. A full color graphic printed with a dye sublimation process is vibrant, giving your brand a good look. When illuminated by the internal LED lights, your logo or marketing message will stand out at a busy event and turn heads.
These charging counters for events can accommodate numerous devices at once. When you host a number of convention hall passersby, you'll have room for all of their smartphones and tablets. Multi-device recharging stations are a convenient addition to any event booth.
Portable charging counters are made for traveling to and from expos. While their offer enough space to feature countertop literature holders, they can still fold down to an easy-carry size. Our larger recharging cabinet provides an ample display area and includes a carrying bag for easy transportation.
Our event counters that charge phones are excellent for attracting attention where it matters most. Not only do they power our personal devices, they promote brands and offer space for even more marketing materials. Choose this innovative expo counter to boost your appeal show how modern your brand is.