Counter Showcases in Quarter, Half, and Full Vision Models
---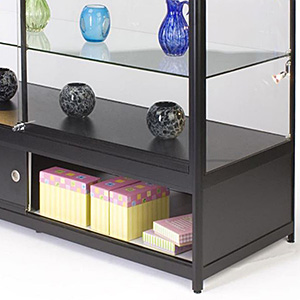 Glass Counter-Height Display Cases Highlight Merchandise in Retail Shops, Dispensaries, and Museums
If you had to choose only one type of store fixture for your establishment, it would have to be counter showcases. These commercial display cases are standards of the industry and for good reason. Counter showcases not only offer merchandise securely behind glass, but they also create a boundary between employees and customers. Whether used on their own or as part of a large cash wrap layout, these retail store fixtures add professionalism to your business while protecting valuable, high-ticket items. All counter showcases provide security and peace of mind for the retailer since shoppers need to ask for access to inspect the merchandise. We stock a wide variety of cabinet styles with numerous finishes and features.
What are the different varieties of glass display cases?
Quarter vision counter showcases feature a single area at the top with the remainder of the cabinet used for storage.
Half and 3/4 vision fixtures offer greater display capacities with the addition of height-adjustable shelves.
Full vision showcases provide the maximum amount of space for merchandise with a clear and unobstructed view.
Use glass showcases for standalone display or mix-and-match multiple units to create a large cash wrap layout. Line display cases along the wall inside your store or design a command center-style hub in the center of the sales floor. We stock rectangular cabinets in many different widths as well as corner units that fill that space if you need to turn models 90°. Most styles offer lockable sliding glass doors that are accessible only to employees. Whether used for high-end jewelry, art, collectibles, electronics, or dispensary and vape supplies, you can rest assured your valuable merchandise will stay safe and secure. Need fixtures for checkouts and cash registers? Shop service and checkout stands that provide the support, space, and storage for customer fulfillment!