Parcel Delivery Drop Boxes Protect Packages from Weather Damage and Theft
---
Locking Mailboxes for Packages, Payments, and Documents - Commercial or Residential Use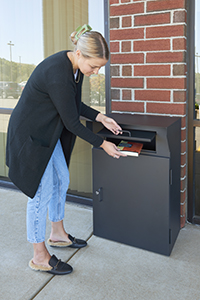 Do you need a secure place to hold deliveries and mail? Our parcel delivery drop boxes protect your shipments from theft and rain damage, whether on your porch at home or at the front door of your business. There's nothing worse than tracking an online order all the way to your address only to find it missing when you head outside to grab it. Placing a locking parcel delivery drop box where your postal carrier or visitors can access it ensures your packages, payment or key drop-offs, and important documents stay dry and out of the hands of any would-be thieves. More shipments are going directly to consumers than ever before, but recipients can't always be there to accept a handoff directly from their courier. That's where freestanding outdoor parcel delivery drop boxes come in handy—options with watertight seals keep the elements out, while keyed-access means that only you can get to your packages.
What can a large locking mailbox be used for?
Shipments — You can't always be around the second your online order gets delivered, and with a parcel delivery drop box, you don't have to. Whether you've got packages coming in periodically throughout the day or you're going to be tied up at the expected delivery time, having a secure, locked place for those boxes can eliminate the potential stress of weather damage or theft.
After-Hours Drop Offs — Sometimes clients and workers need to hand off important items, but can't make it during the workday. Keys, documents, and contracts can't just sit on the stoop all night, so a parcel locker ensures that they remain safe until you arrive in the morning.
Rent Payments — Plenty of tenants find it convenient to drop by your office with a check around the first of the month, rather than mailing it. Give them the peace of mind of knowing that their payment is assured to make its way into your hands, even if you're not around to receive it, with a sturdy locking mailbox.
A secure locker for packages and important mail has become a necessity as businesses (and consumers) rely more and more on delivery services to get what they need. Add this to the list of must-have fixtures for commercial sites and workplaces that make stores, offices, and buildings of all kinds more accessible, comfortable, and efficient. Shop staples like trash receptacles and entry mats, warehouse-specific needs like safety cones and scissors gates, and parking lot supplies like bollard signs and plastic A-frame signage to make your business the best it can be for employees, customers, and visitors.