Donation Boxes - Charity and Fundraising Displays
---
Collection Boxes That Encourage Donations for Churches, Schools & Non-Profits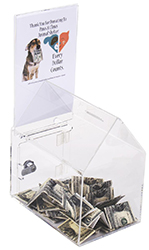 Looking to increase contributions to your charity or fundraiser? These donation boxes are excellent for bringing in more funds! Placing collection bins in high traffic areas will quickly increase the offerings given to your cause. Use our acrylic donation boxes with sign holders to inform prospective patrons about how their money will be used. Well placed signage for a goodwill center can prompt people to donate clothes and food as well. Donation boxes, or collection jars, are available with additional options such as locking storage and fun "prize drop" designs. We offer a number of styles to assist any organization in maximizing their contributions.
What different styles of collection bins are available?
Countertop donation boxes are ideal to place near cash registers or on desks. These are a great portable option for event booths as well.
Wall mounts are ideal for placement near doors and in busy hallways. Most of our wall mounting models double as countertop stands.
Floor standing boxes are much larger and better at catching the attention of passersby. In addition, they ave more space for holding contributions.
Collection cans are smaller and more affordable, making them great for collecting on the go. Wrap a custom graphic around to feature your signage conveniently.
What other options are available with these charity displays? Many of these units feature a secure locking design that prevents theft in high traffic areas. When you're ready to empty the collection area, simply unlock the door and swing it open to access your earnings. Browse all of our locking holders for ballots and donations here. Need a certain look to go with your display? These contribution bins are made with a number of different materials and finishes. This includes wood, acrylic and metal, with shades like black, silver and mahogany. One of the most popular choices is acrylic because it allows you to see how much money has been given to your cause.
To get the most out of your display, try a fixture with an included sign frame to get the word out about your program. This creates a great opportunity to feature your logo, mission and goals to others, encouraging them to donate! Not only does signage communicate your cause, but it can also draw attention with images about the people you're providing for or a mock-up of the building that's being funded.
Looking for something a little more exciting that can get people fired up about giving to a good cause? Try our prize drop style fundraising displays! Dropping coins in makes a loud plinking sound that can be heard over crowds of people and helps draw attention. It's easy to draw in more passersby when your participants are having fun. Fundraising with one of these game boards is an easy way to garner contributions in a short period of time.
Why order from Displays2Go.com? All of these collection jars benefit from wholesale pricing, so the more you by, the more you save! In addition, most models here are shipped same day so you get the supplies you need when you need them.