Wall Mount Business Card Holders - Single & Multi-Pocket Contact Info Displays
---
Wall Mounted Business Card Dispensers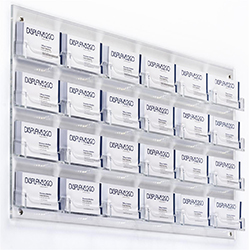 Our wall mount business card holders, or office calling card displays, are ideal racks for featuring contact info. These clear acrylic card dispensers make information highly visible. Use wall mount business card holders to promote your name or the name of your associates by placing them next to an entry door, near a cash register, or beside a reception desk. Keeping important information close by is one of the best ways to increase brand recognition among customers. Why choose these discount wall mount business card holders to feature your credentials? Our dispensers make it easy for visitors and potential customers to take details with them so they can quickly access an agent. This passive method of advertising is excellent for creating new professional relationships and starting new projects.
How does each calling card dispenser differ from the next?
Wall mount business card holders come in several configurations. We offer single pocket and multi-pocket designs for offices of any size.
Many of these dispensers have open pockets that allows interested customers to take what they want. Keep a lot of copies to make sure that patrons will walk away with your information.
Some of these units come with an included graphic display for featuring advertisements alongside calling cards. This is a great opportunity to feature company branding alongside your contact info.
What makes these hanging business card holders excellent for any office? This style is excellent for saving desk and counter space by featuring information on the wall. Not only is this a great way to increase visibility, but this means that it can be displayed in hallways and on doors. We include mounting hardware and instructions with each unit for easy installation.
Although we offer a great deal of stock clear acrylic calling card dispensers and visiting card holders, our manufacturing facility is fully capable of providing speedy quotes and designs for custom jobs. For customizable wares, browse our Workshop line and click on the "Customize it" to see the options for making a personalized display. These racks can feature high quality logos in full color to match any company's image.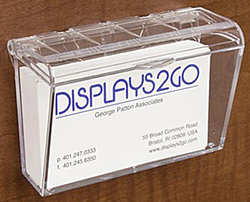 Entice customers and patrons to take your business card and increase repeat business! These acrylic racks are common in waiting rooms and reception areas. Office locations are ideal places to put multi-compartment displays because patrons can take contact info while they wait for a meeting. Our combination racks with graphic frames are ideal for showing visitors advertisements featuring your merchandise and services. While these mounted displays are better for saving space in crowded offices and waiting rooms, we also offer convenient desktop units for calling cards. Order on Displays2go.com for quick shipping on all of these items. Buy in bulk for wholesale pricing as well!