Multiple-Pocket Wall Literature Racks in Acrylic, Metal, and Wood
---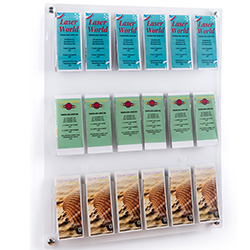 Wall Hanging Magazine and Brochure Holders Store Lots of Printed Publications
When storing many pamphlets and/or periodicals, a display system consisting of multiple pockets is absolutely necessary. These wall literature racks provide the real estate you require! Durable enough to stand up to frequent use, they are great for heavily trafficked locations. Display any number of catalogs, magazines, leaflets, and pamphlets. Wall literature racks are available in many durable manufacturing materials. Plastic models feature pockets made from high-impact acrylic. Their clear design doesn't obstruct the magazine or brochure covers. This gives the visitor easy viewing when choosing a publication. Metal styles come in box designs or steel wire frames. These wall literature racks are perhaps the most durable models we sell. Wooden magazine holders place greater emphasis on the type of stained finish. Since some of these wood styles hide most of the front cover, their subtle appearance makes these good choices for upscale interiors.
How do the hanging magazine pockets differ between the various methods of construction?
Acrylic wall literature racks feature two types of holders. Smaller models are self-contained as a single structure with tiered pockets. Larger matrices have a modular, hook-on design. These offer the end user excellent flexibility — being able to add or remove holders when the situation arises.
Steel or aluminum literature racks also come in two ways. Box-style designs come fully assembled with tiered pockets in a vertical format. These are available in black or putty-colored finishes. Wire frame models are constructed with 1/4" steel rod. Like the clear acrylic models, these display publications and/or pamphlets without obstruction.
Wooden holders feature solid as well as clear-face pockets. Solid models hide more of the periodical. If you prefer not to have the magazine covers "shout" their existence, these styles are the preferred choice. On the other hand, we offer wooden literature racks with clear acrylic faces for instant recognition.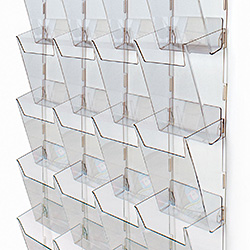 Another style offered is our exclusive "designer" series. These feature extruded aluminum rails in straight or curved models. The rails have a satin silver anodized finish and are paired with either clear or green-edge acrylic literature trays. Unique in appearance and modern-looking in every way, these are quite the attention-getters. We sell kits in vertical or horizontal formats, and some packages come with poster areas for displaying printed advertising.
Hanging magazine, flyer, and catalog pockets is one of the best ways to reduce clutter in a crowded area. Waiting rooms and lobbies are already overrun with various fixtures and furniture. Rather than leaving out a stack of publications that can easily become a mess, they can be filed out of the way in a neat and presentable manner. Patrons and visitors will appreciate the organization a wall hanging unit provides. Retailers use these wall fixtures for offering magazines, comic books, auto brochures, and other reading materials. Let's not discount the importance of office organization. Providing employees easy access to files, instruction sheets, and manuals is just the tip of the iceberg. Multiple-pocket literature holders fulfill the need for better print material management. We have the hanging information systems you're looking for!