Tabletop Lecterns | Standard & Folding Pulpits for Counter Use
---
Portable Countertop Lecterns Enhance any Professional or Educational Presentation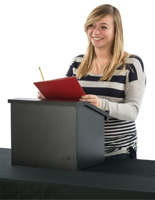 Looking for a cost effective alternative to full size presentation stands? Tabletop lecterns provide the ideal speaking platform for classrooms and other areas where a large podium won't cut it. The compact design of the pulpit is perfectly sized for tight spaces on tables, counters, and desks. Each tabletop lectern features a unique finish and a portable build. Some of the pulpits are even constructed with laminate inserts that add a touch of decorative style. Leave large bulky podiums behind and choose a transportable lectern to get the job done!
Why should I choose one of these countertop podiums for presentation purposes?
Tabletop lecterns come in both standard and convertible designs. The unique design allows the top to be removed and used separately on a counter, desk, or table.
Our countertop podiums are manufactured from the highest quality materials. There are traditional hardwood models, wood laminate options, clear acrylic styles, and even units that are designed with recyclable plastic.
Stands made from biodegradable material are rated for outdoor use. This type of desktop podium is great exterior events, such as graduation ceremonies, weddings, and company outings.
Many professionals that frequently host different events prefer convertible designs. The versatility allows the users to pick the optimal setup for each application.
The smaller, more compact speaking pulpits can be moved around with less effort and are ideal in any location — whether that be a large lecture hall or a small classroom. Either way, presenters will be able to speak comfortably without having to hold notes or other information in their hand.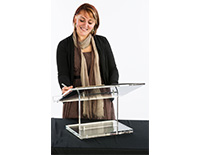 Where else can you find these convertible stands? A tabletop pulpit or desktop podium is an excellent solution for a conference or meeting room where presentations often take place as well. A standing lectern can be a large inconvenience when it must be moved in and out of a room on a day-to-day basis. Continuously transporting podiums place-to-place can increase the risk of damaging the edges of the unit or even ruining the room itself by bumping into walls. At Displays2go, we attempt to provide our customers with a solution for every possible scenario. We developed multi-functional displays, like our dual-purpose stands for times when you can't decide on a standard or tabletop design. If your business or organization requires large pulpits as well as desktop models, purchase a combination unit to save time, space, and money!
How does shipping smaller, portable platforms compare to larger units? Our countertop lecterns are shipped at a much lower cost than full-sized models. Most of the desktop podiums can be disassembled, whereas floor stands are generally put together prior to shipment and must be transported on a pallet via truck. This simple difference can eliminate the need for scheduling a lift gate or dock delivery. The lower cost of the countertop pulpits and desktop podiums is yet another reason to purchase these models instead of full-size, freestanding podiums. The combined savings of the lower price and the cheaper shipping make these selections great for those with limited or restricted budgets. Browse through our large catalog of convertible platforms today — and if you find you'd like to expand your selection check out the economy wood podiums and counters in a variety of styles and finishes on our site.