Fabric Pop Up Displays with Custom Printed Graphics
---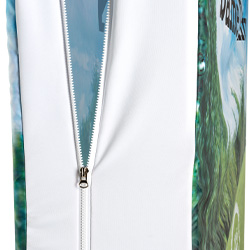 Stretch Fabric Pop Up Displays in Straight or Curved Styles
On average, exhibitors at a trade show have three seconds to capture visitor attention. Fabric pop up displays that feature custom-printed graphics can play a major role in this endeavor. Backwalls of this size need to be certain of two things — they need to be lightweight as well as portable. Our tension fabric pop up displays feature stretch polyester graphics with knockdown frame construction. Standards of the industry, these trade show fixtures are easy to set up, pack away, and transport. Let Displays2go provide the fabric pop up displays for your next event; our selection is unparalleled!
7 reasons why a custom printed back wall is the best purchase for exhibitors:
Our pop up displays utilize stretch polyester fabric. Once pulled over the metal framework and zippered in place, the tension provides a perfectly smooth and wrinkle-free surface for your graphics.
Your custom-supplied artwork is printed using dye sublimation, a technique where the graphics are applied onto the fabric's surface as a high-pressure heat transfer. This high-quality printing process can reproduce any color with full bleed capabilities. Your artwork will display over the entirety of the backdrop area for maximum impact.
Pop-ups are offered in single or double-sided models designed to fit inside 10' x 10' or 20' x 20' trade show booths. Selecting one or the other obviously depends on your application, but we think you should know that the added cost for a 2-sided graphic is very reasonable.
Most backdrops feature an underlying framework manufactured in lightweight tubular aluminum. Sections click together using convenient push-buttons. Furthermore, the frame is divided into small sections so they fit inside the carrying bags/cases for easy portability.
There are lots of shapes and sizes available. Opt for a simple, straight wall or choose one with concave curves. Some of our newest offerings feature vertical curves and circular frames that deliver a fresh approach to the overall booth presentation.
Want even more enhancements? Purchase a wall that comes with accent lighting. These come in the form of halogen or LED spotlights that attach to the top of the display. Some models even feature internal illumination that makes the whole printed graphic glow from the inside!
When it comes to total customization, it takes additional accessories to advance the presentation to its full potential. Included with some models are additional backdrops, TV stands, counters, and shelves. Portable literature stands stock company literature within convenient reach. We offer many more exhibit booth fixtures and supplies to accommodate almost any need.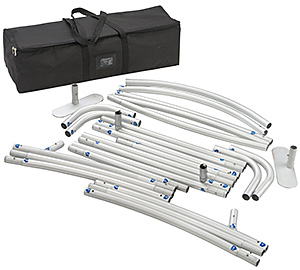 Within the sea of exhibitors at any given trade show, it becomes apparent you need to have an angle in order to get noticed. In lieu of gimmickry or free trinkets, large-format graphics are the go-to choice. Why? Trade shows are a wonderful place to experience sensory overload, flashing lights, and sounds. All distractions aside, it's still the visual clues visitors and attendees need to navigate the convention floor. Whether it's a well-known company brand or a picture of your best-selling product, a large-format graphic is what connects you with potential customers. Our backdrop walls can provide the size and scale necessary for a successful trade show campaign. A great first impression is what you need; a great first impression is what you'll get!