Stands and Mounts Compatible with iPad 8
---
iPad 8 Compatible Stands Improve Retail Marketing Viability with Locking & Rotating Enclosures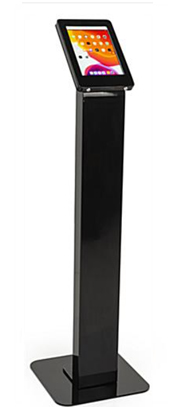 Are you looking for new ways to maximize the effectiveness of your digital tablet? Our selection of iPad 8 compatible stands includes must-have features for customer-facing industries such as retail shopping outlets, showroom floors, trade show booths, bars, and restaurants. These digital tablet stands even find a home in many remote workstations, kitchens, or private studies. Enjoy the peace of mind provided by our locking iPad 8 compatible stands, knowing that your investment will remain safe from tampering, theft, or damage when left unattended in high-traffic public areas. This added security, alongside modern interactive content, can transform your kiosk into an additional employee of sorts, providing customers with a self-service information hub to learn about your products and services or explore marketing material. For demonstrators, our articulating iPad 8 compatible stands help visual content such as slideshows or video become more accessible, able to be viewed from various angles, or shared. Furthermore, when used as a point of sale system, cashiers can enter each product on their end before flipping the unit to accept their patron's payment or contact information. Some models, designed for home or commercial use, even include wheelchair accessibility so disabled persons can keep in contact with emergency services, communicate via tablet if necessary, or keep entertainment close.
What Industries Use Digital Tablet Stands the Most?
Trade show exhibitors use both our floor standing and countertop iPad 8 compatible stands to engage with guests even when staff is otherwise occupied giving presentations. These digital kiosks give prospective customers a place to view marketing material like slideshows, video, and product catalogs on their own time before being approached by employees in your booth.
Restaurants and bars utilize these tablet holders on tabletops to keep customers seated longer by providing games, television, or digital menus to explore while waiting for their order to arrive. Furthermore, the front and back-end staff take advantage of instant communication via wall-mounted or countertop tablets and reduce the hassle and risk of misreading or losing a traditional paper slip.
Remote workstations have become more and more popular over the past couple of years and our iPad 8 compatible stands have found a home in many offices, studies, and living rooms. Adding another screen to help your workflow can do wonders for making information more accessible while allowing you to juggle more tasks at once.
Our iPad 8 compatible stands provide an invaluable service to customer-facing and private industries by placing vital digital content, reference guides, and promotional media directly where the customer needs it most. Digital tablets can be a serious investment for any individual or company, so it is important to ensure the safety of the device with secure, locking enclosures. Share entertainment, payment sign-offs, advertisements, and more with articulating mounts designed to pivot and tilt to your desired angle. We provide a wide range of digital tablet holders suited for any brand, make, or model. Visit Displays2go to equip your business with the tools needed to thrive in this customer-centric business environment and build memorable experiences for your patrons.