9th Generation iPad Stands and Mounts - Height Adjustable & Lockable Styles
---
Tablet Holders for 2021 Released iPads That Transform Your Device Into an Interactive Kiosk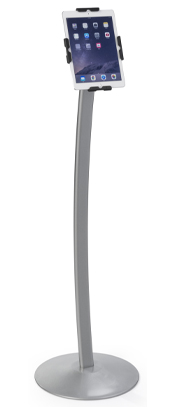 Are you looking for ways to optimize your customer's shopping experience using your tablet? Our 9th generation iPad stands and mounts provide a safe enclosure to house your device while providing your customers with an interface to browse your products or get quick assistance. Pair your tablet with a card reader to quickly process payments without having to invest in a physical POS system. Incorporate locking 9th generation iPad stands and mounts as a part of your hotel, conference, or live event queue line to reduce time spent manually checking in guests. Invite visitors to your museum, art show, or exhibit to browse supplemental information about your display by dynamically providing content on your tablet that is held securely in place by our height-adjustable 9th generation iPad stands and mounts. Some tablet business mounts feature a tilting and rotating design that enhances the customer experience by providing a comfortable viewing point for patrons of various heights.
How to provide a better customer experience with a tablet station:
Shorten customer wait time - Serve dwelling customers or guests while assisting other patrons by including mounted, countertop, or floor-standing 9th generation iPad stands and mounts in your store, trade show, or event space. Create self-serve kiosks throughout your store or event that allow attendees and shoppers to quickly assist themselves throughout your checkout process.
Streamline your sales process - Include a countertop or clamp-on tablet business mount as a part of your sales counter to employ modern and technologically advanced systems and applications from the Apple App Store to speed up the completion of your sales process and get your customers in and out of your store feeling more than satisfied with their shopping experience.
Reduce waste - Sustainability is a top concern for consumers. Tablet holders and kiosks allow you to serve your customers while reducing waste. Instead of reprinting menus, place countertop tablet holders on restaurant tables to entice your customers with visually appealing menus created without excessive waste.
Locking iPad stands and mounts allow you to incorporate your device into your business with peace of mind. Feel secure leaving your tablet unattended while you serve your waiting guests as our tablet business station selection includes styles with an anti-theft enclosure. In addition to iPad compatible displays we offer a wide range of digital store merchandising fixtures to help provide an overall better customer shopping experience. Visit Displays2go.com to find retail essentials and digital solutions that help you improve your business processes and adapt to your client's changing needs.