Acrylic Display Cases for Residential & Commercial Environments
---
Acrylic Display Boxes Showcase Memorabilia in Homes, Office, or Retail Environments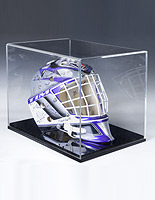 Looking for the perfect way to present products or mementos? Acrylic display cases feature affordable plastic designs to create a variety of merchandising arrangements. These transparent boxes can hold collectibles, figurines, and dolls in a home or jewelry and other wares in retail environments. Clear plexiglass cabinets are especially useful when displaying high-end electronics or museum artifacts. Acrylic display cases in countertop and freestanding styles are also a wonderful choice when it comes to showcasing sports memorabilia or makeup in a retail store. Transparent plastic boxes are an economical and lightweight means to present any merchandise. Whether you are shopping for store fixtures for antiques, shot glasses, or die-cast cars, these pre-assembled plexiglass dust covers should be your first choice.
What are some of the features these plastic containers for showcasing small to medium items?
Locking acrylic display cases are available to showcase important products. If you run a retail store you most likely have small valuables that you want to present but don't want customers to have access to without your presence. Choosing a locking case will keep your high-ticket items secure and in clear sight of your patrons.
These transparent plastic containers make it possible for items to be easily visible from all directions. The high visibility design is excellent for presenting wares in any environment.
Many of these dust covers are constructed from plexiglass. Its clear appearance does not detract from any décor or environment and the beautiful high gloss finish has an attractive and classy appearance like that of glass but with more benefits. Over traditional glass, plexiglass is stronger, more impact resistant, lightweight, won't shatter, easier to fabricate, and can be easily formed.
Display boxes are available with illumination options. Choose from freestanding or countertop models with interior lighting that make your merchandise inside pop! These are great for museums or for creating a modern-looking exhibit.
Units are available with multiple shelves to accommodate several types and sizes of collectibles. Among the features of this product line, there are wide, narrow, and hexagonal shaped units that have either sliding or swing open double doors.
These clear cabinets will also keep your delicate electronics or fragile collectibles free from dirt since they are safe within the box's enclosure.
Regardless of the plastic dust cover you choose, there is a ton of options available to fit any setting. Exhibit all the product varieties offered at a store neatly in one of these display boxes instead of scattering them around a table or counter. If acrylic isn't what you're looking for, we have glass display cabinets for retail and residential environments. Shop online at Displays2go for quick shipping and low prices.