Acrylic Countertop Easels Showcase Photographs, Menus, Catalogs & More
---
Clear Tabletop Acrylic Display Easels with Knock-Down Designs for Countertop Showcases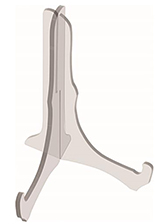 Are you looking for a compact, functional way to present small items such as books, photographs, journals, catalogs, and more in your retail or boutique setting? Our acrylic countertop easels are a great addition to any merchandising toolkit, featuring knock-down designs and clear, easy to clean materials. Great for trade show exhibits, these merchandising displays allow users to set up in minutes, placing best-selling books, small paintings, or other wares front and center, often with back-up stock stacked neatly behind it. Use these acrylic countertop easels to entice last-minute impulse purchases at retail check-out counters by showing off new printed advertisements and signage prompting credit card sign-ups, half-off sales, and royalty rewards programs. We offer standard tabletop easels, plate easels, and even some with deep pockets for holding large boxes of things such as gloves, wet wipes, and tissues. For collectors, our acrylic countertop easels are a great way to showcase fine china, comic books, or other novelty items on the shelf without distracting from the art itself.
How do people use clear acrylic display easels?
Trade show exhibitors must travel light and be efficient with what they do choose to bring along. Often, they are limited to one or two folding tables in a tight presentation space, so large-scale displays are out of the question. These acrylic countertop easels are a compact way to make a large impact while setting up promotional signage, showing off an author's latest publication; or presenting take-away literature.
Retail stores take advantage of our clear tabletop easels as a way to entice impulse purchases while customers are waiting in line or for the cashier to finish ringing up their items. This form of display can make a great conversation starter, giving your employees a jumping-off point to discuss local events, sales, or promotions that may be presented.
Collectors and novelty enthusiasts love displaying their prized possessions in-home, or often in hobby shops. The clear acrylic countertop easels are small enough as to not distract the viewer from the product or collectible itself and sturdy enough to ensure that it will not tip or fall over without some level of force.

Whatever the application, a transparent tabletop easel is a surefire way to ensure that the focus of any presentation remains on the content itself and that the fixture doesn't distract from the quality of your showcase. Whether you are looking to present printed media, signage, or other advertisement in a retail or home environment, these displays are a fine choice. Shop Displays2go for a range of display easelsin floor standing or countertop models. We also offer a wide selection of acrylic, wooden, and metal displays to suit your specific needs.