Cheap Plastic Poster Frames for Movie Prints and Advertising
---
Plastic Poster Frames — Cheap Picture Holders in Popular Sizes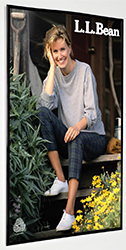 Looking to cheaply hang large-scale graphics in your store or business? These cheap plastic poster frames are affordable, attractive, and easy to assemble. Due to their plastic build and minimalist framing, this signage is lightweight, which makes hanging easy. All you do is slide the molding off of each of the four extrusions, lift the lens, insert your print, and slide the moldings back on for a secure grip that won't come loose.
Want to make a big statement? Our discount poster frames come in an array of styles, including some of the most common sizes so you can display an assortment of wall mounted promotional signage. What's great about these inexpensive picture holders is that you can't really tell the difference between these signs and signage that is made of higher-grade materials.
What are some of the features of these inexpensive large photo holders?
Construction: These cheap plastic poster frames have a sturdy plastic or polystyrene construction with a corrugated cardboard or rigid plastic backer depending on the style you choose. A clear plastic lens cover has a flexible design that makes loading graphics easy. This non-reflective overlay keeps dust and dirt off valued artwork and advertisements and prevents fading.
Color: Our affordable wall framing comes in classic colors including black and silver to blend with any décor and the two colors look great together, should you choose to use them in the same room.
Style: Many of our thin plastic slide-in frames have a thin edge that puts the emphasis on displayed graphics. Other wall advertising displays have a thicker surround that makes more of a statement and that frame will weigh a little more, too.
Size: This large photo framing comes in an array of sizes to support all of your discount poster frame needs. Our most popular sizes are 24" x 36", 22" x 28", and 30" x 40". Trying to drum up interest in the latest film release in your cinema? Our 27" x 40" and 27" x 41" movie poster displays will do the trick.
With inexpensive picture holders for wall mount, it's a good idea to order in bulk because the more you order, the bigger the price break. This is an especially great deal for chain stores and restaurants where you're looking to outfit a large store - or multiple stores. Need it fast? Ask about same-day shipping so you can start hanging art right away. Schools and colleges also benefit from buying products in bulk, and do so all the time. These inexpensive enclosures for posters are also used in college dorms to hang graphics so that institutional rooms look cozier. Retail stores and showrooms will use our plastic wall holders for printed graphics to announce sales, advertise new products and enhance brand exposure, or embellish the décor.
Restaurants rely on inexpensive enclosures to promote specials, menus, or just add warmth with a pleasant large-scale graphics. Movie theaters are a popular location to hang large Hollywood one-sheets, and we have those popular sizes available. Travel agencies display exotic travel prints to entice customers to buy trips and real estate agencies use all different sized photo holders to advertise homes and properties for sale. While this large format advertising signage is not appropriate for upscale hotel lobbies or high-end restaurant reception areas, there are plenty of spaces within each of those venues that would benefit from inexpensive framing.
Our large wall photo sign holders come with all the hardware needed to mount the system in horizontal or vertical orientation. Installation is quick and easy using the accompanying mounting hangers, hanging hooks, or metal bendable retaining clips, depending on the model you ordered. The extrusions are detachable and snap easily into place to secure the artwork. These poster frames, also known as advertising graphics framing, are typically seen in movie theaters, restaurants, cafes, retail showrooms, and offices. While not recommended for use in upscale venues like hotels, this collection of wholesale advertising print holders is an affordable way to frame art in a college dorm or home office.
Is economy framing a good choice for your business? Most people who purchase from this line of advertising signs will tell you that buying wholesale frames from Displays2go.com is well worth the savings and you don't lose aesthetics. While our selection of affordable large-scale picture holders features plastic construction to keep the price down, some models are barely discernible from wood and you really can't tell the difference unless you touch the surround. Each of our designs is simple and sleek and always looks professional. Why spend money on more expensive fixtures when these wall sign frames look just as beautiful?