Custom Printed A-Frame Signs for Curbside Advertising
---
Customized A-Frame Outdoor Sandwich Boards Enhance Curbside Advertising
Looking for a way to bring customers to your store? Custom printed A-frame signs are the advertising solution you're looking for. These durable sandwich boards are the perfect addition to your storefront. Custom printed A-frame signs have an attractive appearance. This makes them ideal for catching the attention of potential passersby. Choose a sandwich board with custom graphics to display sales, upcoming events, or welcoming messages to entice customers to browse through your store. Sidewalk A-frame signs can be the deciding factor of whether someone chooses to go into your establishment. Take advantage of this signage and make a positive impact.
Why should I choose these customized sandwich boards for my establishment?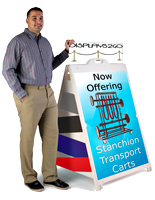 Custom printed A-frame signs are available in a variety of media sizes including 18" x 32", 20" x 20", 22" x 36", 24" x 26", and 36" x 38".
Each sidewalk sandwich board is constructed from heavy-duty materials like corrugated plastic or polystyrene. Their durable construction allows them to hold up well in the outdoors. They're able to withstand the wear-and-tear of outside elements like sun, rain, and wind.
Customers can choose from a variety of printing options like high-quality UV printing on the surface of the sandwich board. Other options like custom graphics on coroplast board inserts and custom vinyl lettering for those looking for a more economical option.
Each fixture is double-sided, allowing your personalized artwork and promotions to be viewed by passersby from either direction. The more eyes on your advertisements, the more likely someone will visit your store - especially if there's enticing messaging.
Some sidewalk models have added features that go the extra mile in enhancing the curbside advertising efforts for your business. Choose from units that have customizable headers and side boards. Models with wheels are available as well for added mobility for some displays.
Having trouble crafting impactful messages for your advertising campaigns? Read our article on how to create effective sandwich board signage and messages to enhance your promotional presence. Making a positive impression can turn someone from a passerby to a potential customer in seconds. It's important to come across to your audience. Choose Displays2go to help put your advertising ideas into motion!