Custom Shape Foam Signs Create Attention-Getting Signage Displays
---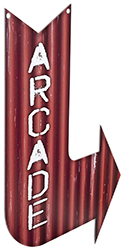 Foam Board Signs with Contour-Cut Shapes and Full Color Digital Printing
Need advertisements that will stand out from the rest? These custom shape foam signs will give your marketing campaign a unique look with interesting and functional designs. Contour-cut, shaped signage is great for giving restaurants and pop-up stores an attention-grabbing logo that passersby will remember. Custom shape foam signs are digitally cut — they're also digitally printed with a UV light drying process. Contour-cut signage produces high quality full color graphics that are dried quickly to accurately recreate your artwork. Our custom shape foam signs are ideal for creating unique logos to boost your business's image.
How can this digitally-cut signage be used?
Custom shape foam signs are great for giving your store or bar logo a one-of-a-kind silhouette. Bakeries could use a cupcake or a loaf of bread, allowing passersby to quickly associate these foods with the business. Bars can benefit from a beer bottle or cocktail glass design. Surfboards, flowers, game controllers, T-shirts and other distinctive forms are easy to recognize and will attract interested customers. The possibilities are endless!
Contour-cut shape foam signs don't need to have a wild design to get the attention of passersby. If your logo is a circular, why put it inside a boring rectangular frame? Make it look natural with a rounded print. Alternatively, you give your brand an interesting frame with a circle, oval, or hexagon figure to stand out from all of the squares.
Customized unique shape foam signs can have functional uses. Easily show passersby how to find your business with arrow-shaped signage. It's a great way to create feature specific directions suited to your location. If your store is elevated above the sidewalk, a double sided graphic pointing up and to the side would show passersby exactly where you are.
Ready to create your shaped foam signs? We offer a selection of different sizes to help you get the personalized display the way you want it. They're also offered with a choice of single or double sided printing, making them a versatile choice for advertising in high traffic areas, on the lawn, or yard. Our customization process makes it easy, simply download the template, design your signage, and submit it the same day you order.
If you're looking for a rectangular lightweight sign, our printed foam core signage is offered in standard poster sizes. These come with the same professional print quality as our uniquely cut displays.