Custom Printed Tablecloths - Promotional Table Covers with Logos & Graphics
---
Custom Table Cloths with Logo for Promotional Events
Looking for an affordable way to promote your business at marketing events? Our custom printed tablecloths come in a variety of styles designed to turn standard fixtures into branded promotional accessories. Available as traditional draped throws and runners, convertible linens, or stretchy spandex wraps, these machine-washable table covers feature full color digital or single-color vinyl imprints that make it easy to catch customer attention with brand graphics or messaging. Our personalized custom printed tablecloths with logos, also known as promotional table coverings, are machine washable, wrinkle-resistant, and flame retardant, making them the perfect choice for in-store or off-site events. Whether your business needs full-coverage vendor table cloths with allover printing, imprinted spandex coverings for standard rectangular or bar height fixtures, or simple 1-color runners, Displays2go makes it easy to order what you need and makes sure you get it when you need it.
What types of tablecloths with logo are available?
Traditional full length custom printed table covers have a classic appearance that drapes over booths. Easily store supplies in these throws, whether they're open in the back or fall to the floor on all sides.
Stretch linens have a modern design that appears taut by wrapping around the booth's feet. This style's sleek, contemporary look is an excellent choice for companies on the cutting edge.
Personalized table runners are smaller and are typically placed over a full-length linen. These are great for advertising because they highlight your logo and can be placed in the center of any table.
Convertible custom table covers have a changeable design to fit two booth sizes. Businesses that attend various events often need to conform to vendor space requirements that are available. Be prepared with a personalized linen that changes to suit your needs.
A custom table cloth with logo is the ideal choice for representing businesses at trade shows. But where else can they be used? Company events like banquets and fundraisers are great occasions to feature a logo or a promotional message. This keeps the organization in everyone's mind while they have a good time and connect with associates. Job fairs are another opportunity where branded linens shine. At craft fairs and farmers' markets, they help vendors stick out from the crowd. Non-profit organizations that run blood drives and fundraisers can attract attention for their cause.
What types of printing processes are available for these event throws?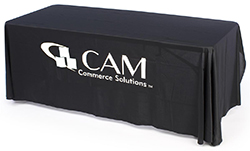 Dye sublimation printing creates high resolution graphics in full color. This process also produces photographic quality images with vivid shades to accurately represent any logo or promotional artwork. Table covers with full bleed dye sub imprinting are machine washable for added convenience. The image will not fade or peel as the ink is infused into the fabric on the molecular level, not just on top. There's no need to worry when bringing your high quality imprinted linens on the road.
Table covers with heat transfer imprints feature vector graphics in one color. This vinyl print process is great for displaying simple logos and text. Personalized throws with heat transfer artwork are an affordable option for clearly branding an event booth. Choose a color from 15 available shades to match your company's logo or create an attractive contrast that will stand out at trade shows.
Worried about wear and tear from traveling? Our customizable booth covers are made of durable polyester to last for years. In addition, all of the linens are machine washable for easy cleaning on the road (check for included cleaning instructions on each product). Both stretch spandex and traditional tablecloths are wrinkle resistant for a professional presentation in the convention hall. This polyester material is also flame retardant for events where fire-safe materials are a requirement Shop our full selection of table covers, including solid color and convertible styles.
Promotional tablecloths are one of the best tools for featuring your messaging at events. But are you maximizing the brand power of your exhibit space? Find all of our of promotional exhibit fixtures on Displays2go.com and create an effective display that will reach out to attendees.