Samsung Galaxy Tab A 10.1" Stands and Mounts
---
Samsung Galaxy Tab A 10.1" Stands and Mounts for Professional and Personal Use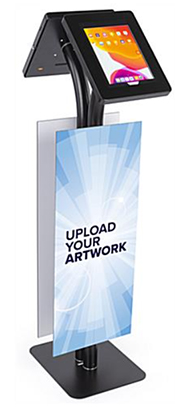 Are you looking for a way to protect your recent investment and amplify the quality of your digital presentations? Our selection of Samsung Galaxy Tab A 10.1" stands and mounts are designed to compliment daily use in high-traffic customer-facing industries by assisting public speakers, salespeople, receptionists, and clerks in their day-to-day duties. Similarly, the quality design of these tablet holders means that they have found a home in many households as well, complimenting study areas, home workstations, and even kitchens as a digital cookbook or reference guide. Choose from a wide selection of Samsung Galaxy Tab A 10.1" stands and mounts, including many with locking capabilities for added security, articulation and tilt, or even custom printed banners for enhanced marketing potential. Provide interactive digital content to customers on the sales floor both as a way for them to explore products and services at their own pace, and as a supplemental tool for employees to use while sharing product demonstrations. Samsung Galaxy Tab A 10.1" stands and mounts are often used as countertop point of sale systems (POS) in restaurants, bars, boutiques, and even in trade show environments. Any of these tablet holders are a great addition to your business' toolkit as each assists your employees in managing inventory, referencing product information, collecting customer information, and much, much more.
Which Industries Benefit Most From Professional Tablet Holders
Trade show exhibitors take advantage of our floor standing and countertop Samsung Galaxy Tab A 10.1" stands and mounts, especially models with custom printed graphic banners. By working closely with our design team, businesses create personalized, branded artwork featuring their own product images, logos, or imagery. These systems draw customers in, at times acting as the first presentation a potential customer faces before an exhibitor can give them their full attention for a personal demonstration of their services.
Restaurants, bars, and cafes utilize countertop Galaxy Tab A 10.1" stands and mounts most often as point of sale systems, easily taking customer credit card transactions without the need of a traditional cash register. Additionally, using multiple units allows front-end and back-end staff to communicate more clearly by removing paper slips from the equation, which could get lost or damaged, and sending digital order tickets that are impossible to miss.
Retail shopping centers use Galaxy Tab A 10.1" stands and mounts as a way to provide customers with a self-service product catalog portal to view specs, availability, and other details that could only be viewed online. This also acts as a great way to promote give-aways, promotions, and other means of collecting customer contact information to re-target advertisements at a later date, building return business.
Use any of these Galaxy Tab A 10.1" stands and mounts to augment your traditional sales and store management processes. Floor standing, and countertop tablet holders provide employees with the open-book tools they need to make well-informed presentations, manage large volumes of customer transactions, and confidently manage product catalogs. For a branded experience, include custom banners to create a memorable experience, maximize exposure, and increase brand recognition. Displays2go provides a wide range of digital tablet holders suited for any brand, make, or model. Explore our options and discover how incorporating new technology into your company toolkit can net additional sales and ease the workload of your employees.