Samsung Galaxy Tab A 9.7" Stands and Mounts
---
Samsung Galaxy Tab A 9.7" Mounts Available as Floor Standing or Countertop Models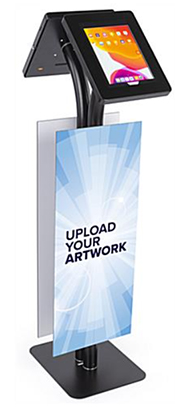 Many businesses have begun incorporating digital tablets into their marketing plans or as tools to assist sales staff on the showroom floor. Equip your employees with any of ourSamsung Galaxy Tab A 9.7" mounts to streamline point of sale systems, help manage inventory, or bolster demonstrations. Provide customers with self-service digital product catalogs to view specs, descriptions, and availability from a centralized hub on your sales floor. Our Samsung Galaxy Tab A 9.7" mounts are available in countertop and floor-standing models, with many including custom printed banners for increased advertisement potential. Work with our design team to create personalized graphics and messaging to display, a fantastic way to increase brand awareness and recognition in public settings such as shopping centers, trade shows, or boutiques. Many of our Samsung Galaxy Tab A 9.7" mounts include additional features such as locking mechanisms and adjustable tilt for better viewing angles, especially to avoid screen glare. Take advantage of any of these stands to streamline your sales process, compliment study areas, provide reference guides in home workstations, and protect your device.
What Special Features Do These Digital Tablet Holders Provide?
Many floor standing Samsung Galaxy Tab A 9.7" mounts feature custom printed graphic banners, a great way to include promotional messaging or graphics alongside electronic media during your next advertising campaign. Draw customer attention with beautifully printed banners, engage them with digital content such as videos, slideshows, or games, and offer a memorable experience for everyone.
Security is important in any environment, but especially so in customer-facing fields where expensive tablets may be left unattended while guests explore its contents. Many of our Samsung Galaxy Tab A 9.7" mounts include anti-theft locking devices to help your tablet avoid damage, tampering, or from being stolen.
Home offices, streaming services, and home content creation has swiftly come into the forefront of many employees' work routine. We offer tablet holders with ring lights to help our customers maintain a professional, well lit, work environment while presenting at web conferences or creating content for social feeds.
Use any of our Galaxy Tab A 9.7" mounts in a home, corporate, or commercial setting to streamline sales pitches, provide customers with additional information, or make web conferencing a breeze. Floor standing models are lightweight and portable, easy to break down and build between off site events such as trade shows and fairs, or even to relocate between departments. Countertop models are best utilized as point of sale systems, reference guides, or as a convenient way to collect customer contact information. For a branded campaign, custom banners create a memorable experience which maximizes exposure and increases brand recognition. Displays2go provides a wide range of digital tablet holders suited for any brand, make, or model. Explore our options and discover how incorporating new technology into your company toolkit can net additional sales and ease the workload of your employees.