Samsung Galaxy Tab S2/S3 9.7" Holders and Mounts
---
Samsung Galaxy Tab S2/S3 9.7" Holders for Commercial or Home Workstation Use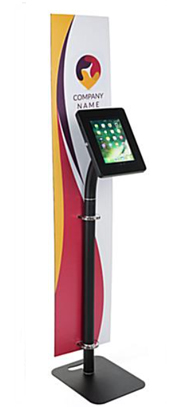 Are you looking for a streamlined way to present digital media, including advertisements and product catalogs to customers in public settings? Our Samsung Galaxy Tab S2/S3 9.7" holders provide customers with a centralized hub to view product and service details or explore marketing campaigns and even support employees as a point of sale or inventory management system. Take advantage of these tablet holders in retail sales environments, trade show booths, or pop-up vendor stands to collect customer contact information and re-target ads at a later date. Countertop Samsung Galaxy Tab S2/S3 9.7" holders work well in restaurant and bar environments as a modern way to manage order tickets without the need for paper slips, communicating customer needs between the back kitchen and front-facing wait staff instantly and with little confusion. Samsung Galaxy Tab S2/S3 9.7" holders are also available in floor standing models, with many including custom printed banners, a great way to increase brand exposure and share personalized messaging. Some models, mostly intended for home office use, are designed to improve the quality of your web conferences and content creation.
What industries benefit most from Samsung Galaxy Tab S2/S3 9.7" Holders?
Social media content creators take advantage of floor standing ring lit tablet holders to create professional videos for their subscribers. In the same vein, with many people working from home these days, employees are using their tablets to web conference with their teams, making a Samsung Galaxy Tab S2/S3 9.7" holder with ring light ideal for maintaining their image.
Trade show exhibitors utilize floor standing and countertop models, especially those with custom printed banners to share product details and videos with prospective customers and gather contact information in order to build a better relationship after an event. These displays can act as a self-serve exploration station for customers, or can supplement your employees demonstrations.
Restaurants and bars use our locking countertop models as modern point of sale systems, taking credit card payments easily while collecting customer emails and phone numbers to add to their mailing list. These devices also provide clear communication between cooks and wait staff by removing the need for traditional paper slips.
In today's business climate, incorporating digital media and content management systems into your marketing campaigns is a must. Customers are no longer satisfied with static images or once-heard audio content that can easily be forgotten, rather, they need engaging visual media that creates a memorable experience that will leave them talking about your product for days, weeks, or months. Additionally, these electronic tools offer priceless support to employees needing to reference inventory, product details, take payments, or assist customers with detailed questions that they may not know off-hand. Displays2go provides a wide selection of digital tablet holders suited for any brand, make, or model. Explore our options and discover how incorporating new technology into your company toolkit can net additional sales and ease the workload of your employees.