Glass Display Cases Constructed with Strong Tempered Material
---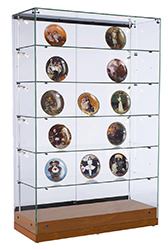 Display Cases with Tempered Glass Shelves, Panels, and Doors
Need to feature merchandise, exhibits, or awards with high visibility? These tempered glass display cases make great retail merchandisers, museum showcases, and lobby fixtures. The counters and cabinets are constructed with a strong tempered material that makes their contents easy to see. Our glass display cases are made with clear panels, doors, and shelves that allows wares and collectibles to be viewed from multiple angles. The showcases are offered in a variety of shapes and sizes to meet any organization's needs. Browse glass display cases with features such as secure locking doors, built-in illumination, and adjustable shelving.
What types of high visibility fixtures do we offer?
Showcases –These tall tempered glass display cases are ideal for featuring large quantities of merchandise and curios. This style features three to five shelves that can hold and exhibit collectibles for all to see. Choose wide showcases to maximize your presentation potential.
Retail Counters – Shorter cabinets are made for handling transactions in stores. Retail counters with a transparent merchandising area are great for featuring merchandise right by the checkout. Customers can ask the cashier about high-value items and will be more likely to make a purchase.
Wall Mounts – Save floor space with mounted display cases. While these wall mounted fixtures only measure 4" to 12" in depth, they have a large area for holding wares and collectibles. Easily create a high-interest area for exhibiting your collection without sacrificing space on the floor.
Pedestals – Museum-style display cases point a lot of attention to a single piece of artwork. Thin exhibit pedestals are compact and have an upscale design that adds to the décor. In retail stores, they're excellent for promoting the newest or most expensive merchandise.
All of these cases for merchandising and exhibition are made of durable tempered glass. This is much stronger than normal plate material, making it an ideal choice for high-traffic stores and museums. If it does shatter, it forms into round, dull pieces that are much less likely to cause harm. In addition, because tempered material is more durable, it takes much more stress to break.
What other features come with these cabinets?
Locking doors protect high-value wares and artwork from from theft. This ensures that only authorized employees have access to a showcase's contents. Cabinets with clear locking doors allow everyone to see what's inside while preventing tampering and shoplifting.
Built-in lighting puts curios and product lines in the limelight. Browse side, top, and spotlight style illumination for a number of options when it comes to featuring your collection.
Adjustable shelving is great for accommodating large items that might not normally fit. Some models allow you to remove shelving to make more room while others have ledges that can be moved up or down.
Tempered cases are the ideal combination of visibility and safety. When it comes to marketing your offerings or showcasing your collection of curios, choose these clear showcases.