Plexiglass Frames Feature Clear Lucite Designs in Many Styles
---
Clear Plastic Frames for Graphics in Wall or Countertop Models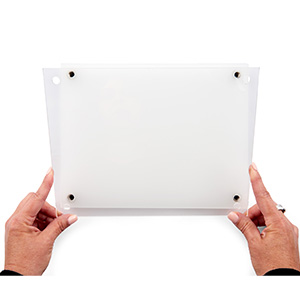 Out of the many styles of poster framing out there, there is one underlying feature common to all — the frame. Whether it's made with wood, plastic, or extruded aluminum, the profile running around the perimeter creates a border. Looking for a frameless design? Enter plexiglass frames for posters! Made from crystal-clear acrylic plastic, these models offer an unobstructed presentation across the entire viewable surface. This can be an important consideration. Our wall mount plexiglass frames won't conceal critical areas of posters, artwork, or photographs. Traditional framing is usually sized to hide anywhere from 1/4" to 1/2" around the entire graphic. If that is unacceptable for your application, then we highly recommend purchasing no-hide plexiglass frames!
Why should you buy frameless acrylic poster displays from us?

See what our customers have to say:
"Great Product. We have ordered these sign holders multiple times and we are always very happy with the quality!" — Miller Sign Shop on July 9, 2018
"I ordered this 18x24 acrylic frame for a print, rather than a traditional frame that would have cut out important details. Order was shipped the next day and arrived well-packed and in perfect condition. Really happy with the result and will not hesitate to place another order when the occasion arises." — Joe D. on August 22, 2017
We stock a nice variety of wall mount sign holders in three main styles. Plexiglass frames for posters that feature foldover designs offer a simple solution. These are fabricated from a single piece of high-quality acrylic. Both ends of the panel are heat formed and bent into large tabs that hold and protect the graphic. As a result, the bent ends are smooth to the touch with no sharp edges. Posters insert in from either the left or the right side. Once mounted to the wall, your graphics are presented without any visual obstruction. The second style mounts with satin silver standoffs. By using these attractive fasteners, signs and posters are raised off the wall for a more dramatic appearance. In addition, small magnets are embedded into the top opening of the acrylic holder. Once your graphics are inserted, the magnets close the opening for a smooth and professional presentation. We offer these poster frames with standoffs in a number of backlit, illuminated sizes too! A third application is designed for use with slatwall merchandising panels. We take our acrylic foldover and bond a plastic hook to the rear of the frame. This hook will fit all standard slatwall channels. Use these sign holders to display pricing or other marketing graphics next to your merchandise!
Also available are peripheral acrylic displays in smaller formats designed for flyers or photos. Shop from our large inventory of countertop picture frames for commercial or residential applications. Models include standard foldovers for quick and easy insertion. Or, opt to buy magnetic holders featuring thick acrylic plates. Your photo or insert is placed between the two panels while the embedded magnets sandwich the assembly. The assembled "block" offers a sleek and modern presentation. Some customers use these for displaying retail pricing on tables and counters. The beauty of the polished acrylic lends itself very well to high-end, upscale interiors.
One of the main advantages to using these frameless holders is their ability to rotate or change signage — cost effectively. If your retail establishment or business is in need of constant graphics changes, consider the benefits these transparent frames have to offer. An added bonus is the affordable price! Let the refined look of clear acrylic showcase your graphics in the best possible way.