Portable Easels for Pictures, Canvas, Classrooms, & Promotional Displays
---
Portable Showroom Easels Appear in Minutes for Enhanced Marketing Presentations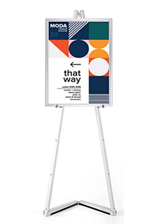 Looking for a lightweight display option to that is easy to transport between trade shows, promotional events, or art galleries? We offer a variety of portable easels suited for professionals who are often on-the-go and are looking to maintain quality presentiations whilst traveling as lightly as possible. These display showcases are perfect for art, pictures, business, in classrooms, or for children to draw and learn on. These portable easels, also known as artistic tripods are easy to transport and set up, but are also designed with durability in mind as they are made of wood, metal, and acrylic. Many of our displays include frames of feature fixed dimensions for holding pictures, canvassed artwork, or advertisements while others have adjustable heights in order to adapt to different situations. The wooden easels come in a natural finish and a neutral black one. Stands used for tabletops come in wood, mahogany, neutral black, metal, and acrylic. Decorative easels are also available and include silver, black, and brass finishes.
How are portable easels most often used?
Classrooms don't always have the available space to leave a traditional art or canvas display out at all times. As such, not only do these easels save space, but they also allow different teachers to share the unit at different periods in their lesson plan, saving educational institutions money and expanding their cirriculum.
Trade show exhibits tend to use these folding easels as a way to showcase promotional advertisement material either deep in the booth alongside speakers or at the entryway to entice passersby to spend a few moments learning about their product. These models break down and set-up in moments, making each a low-effor, high-impact fixture for any booth.
Art galleries are full of moving parts, shifting exhibits, and new artist constantly being brought to the forefront of the public eye. Currators know that there is only so much space on the walls of any showroom floor, and these folding easels do great work at providing more floor space to show off those much-needed pieces in any exhibit.
Our selection of transport easels focuses on functionality, duraility, and ease-of-use. The ability to simply pop-up an effective display when needed and store it away when not in use can be a game changer for any marketing team, since perminant fixtures are no longer needed. Whether it's displaying books, paintings, photographs, drawings, Displays2go has a large selection of retail easels especially designed for almost every purpose! Purchase items in larger quantities to ensure discount wholesale pricing options. Assembly can be accomplished by a single person, typically in under five minutes!